About This Video
---
A clip/trailer of Flipped
Tags
:
Flipped
Type
: Movie Trailer
Views
: 1109
This Movie Info
---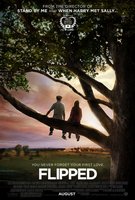 Flipped
Release Date :
August 06, 2010 Limited
Studio :
Warner Bros. Pictures
Director :
Rob Reiner
Starring :
Madeline Carroll, Aidan Quinn, Penelope Ann Miller,
Callan McAuliffe
Coming-of-Age Romantic Comedy. When second-graders Bryce and Juli first meet, Juli knows it's love. But Bryce isn't so sure. Girl-phobic and easily embarrassed, young Bryce does everything he can to keep his outspoken wannabe girlfriend at arm's length... for the next six years, which isn't easy since they go to the same school and live across the street from each other. But if Juli finally looks away, will it be Bryce's turn to be dazzled?
"Flipped" takes Bryce and Juli from grade school to junior high, through triumph and disaster, family drama and first love, as they make the discoveries that will define who they are - and who they are to each other.