About This Video
---
A clip/trailer of Saw VI
Tags
:
Saw VI
Type
: Movie Trailer
Views
: 2031
This Movie Info
---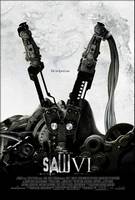 Saw VI
Release Date :
October 23, 2009
Studio :
Lionsgate Films
Director :
Kevin Greutert
Starring :
Tobin Bell
,
Shawnee Smith
, Tanedra Howard, Shauna MacDonald
Special Agent Strahm is dead, and Detective Hoffman has emerged as the unchallenged successor to Jigsaw's legacy. However, when the FBI draws closer to Hoffman, he is forced to set a game into motion, and Jigsaw's grand scheme is finally understood.
Comments
---

dwayne bonello i ahte this movie and i will not see it and its terrible and i will give 1stars!
posted by

dawyne bonello

on Oct 29, 2012