About This Video
---
This Movie Info
---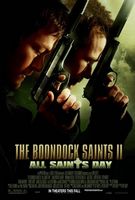 "The Boondock Saints II: All Saints Day" is the much-anticipated sequel to the indie cult classic, The Boondock Saints. The film is the continuation of writer/director Troy Duffy's tough, stylized cutting edge saga of the MacManus brothers (Norman Reedus, Sean Patrick Flanery).
The two have been in deep hiding with their father, Il Duce (Billy Connolly), in the quiet valleys of Ireland, far removed from their former vigilante lives. When word comes that a beloved priest has been killed by sinister forces from deep within the mob, the brothers return to Boston to mount a violent and bloody crusade to bring justice to those responsible. With a new partner in crime (Clifton Collins Jr., Star Trek) and a sexy FBI operative (Julie Benz, TV's "Dexter") hot on their trail...the Saints are back!
Comments
---

i watched the whole movie and yes the first one was rly better but this one wassent that bad at all, i liked it as much as first one:)
posted by

TheSaint

on Feb 17, 2010

Honestly, doesn't seem like it has the same feeling as the first one did. It just looks like another Hollywood Action Packed film... That's it.
posted by

xEDGEx

on Sep 05, 2009