About This Video
---
A clip/trailer of Sherlock Holmes
Tags
:
Sherlock Holmes
Type
: Movie Trailer
Views
: 5292
This Movie Info
---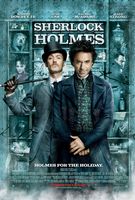 In a dynamic new portrayal of Arthur Conan Doyle's most famous characters, "Sherlock Holmes" sends Holmes and his stalwart partner Watson on their latest challenge. Revealing fighting skills as lethal as his legendary intellect, Holmes will battle as never before to bring down a new nemesis and unravel a deadly plot that could destroy the country.
Comments
---

Like so many Holmesians, I believe Hollywood has altered Holmes and Watson a great deal, and not necessarily in a good way. That being said, I must also say that, apart from the modification problem, this movie looks excellent; the comaraderie between Holmes and Watson is a major part of the books, I think, and that is what this movie focuses on, from what I've heard. Wonderful!
posted by

Adahara Adler

on Dec 12, 2009

you have a grand gift of silence Watson it makes you quite invaluble as a companion *thump* Lol funny or what? can't wait to see it at the cinema on crimbo!
posted by

sherlocklover89

on Aug 05, 2009