About This Video
---
A clip/trailer of Motherhood
Tags
:
Motherhood
Type
: Movie Trailer
Views
: 1616
This Movie Info
---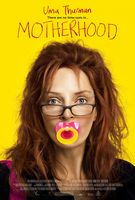 From writer/director Katherine Dieckmann, the acclaimed filmmaker of DIGGERS and A GOOD BABY, comes MOTHERHOOD, starring Uma Thurman, Anthony Edwards and Minnie Driver. Shot entirely on location in New York's West Village, this bittersweet comedy distills the dilemmas of the maternal state (marriage, work, self, and not necessarily in that order) into the trials and tribulations of one pivotal day. MOTHERHOOD forms a genre of one - no other movie has dedicated itself in quite this way to probing exactly what it takes to be a mother, with both wry humor and an acute sense of authenticity.
Eliza Welch (Thurman) is a former fiction writer-turned-mom-blogger with her own site, "The Bjorn Identity." Putting her deeper creative ambitions on hold to raise her two children, Eliza lives and works in two rent-stabilized apartments in a walk-up tenement building smack in the middle of an otherwise upscale Greenwich Village. Eliza's good-natured but absent-minded husband (Edwards) seems tuned out to his wife's conflicts, not to mention basic domestic reality, while her best friend Sheila (Minnie Driver) understands this - and Eliza -- all too well.
Comments
---

What is the soundtrack for this movie? please....
posted by

motherhood

on Aug 20, 2009