About This Video
---
A clip/trailer of An Education
Tags
:
An Education
Type
: Movie Trailer
Views
: 1230
This Movie Info
---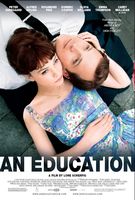 "An Education" is the story of a teenage girl's coming-of-age set in 1961 London, a city caught between the drab, post-war 1950s and the glamorous, more liberated decade to come.
Jenny (Carey Mulligan) stands on the brink of becoming a woman: a brilliantly witty and attractive 16-year-old whose suburban life is about to be blown apart by the utterly unsuitable 30-something David (Peter Sarsgaard).
Urbane and witty, David manages to charm her conservative parents Jack (Alfred Molina) and Marjorie (Cara Seymour). David introduces Jenny to a glittering new world of classical concerts and late-night suppers with his attractive friend and business partner, Danny (Dominic Cooper) and Danny's girlfriend, the beautiful but vacuous Helen (Rosamund Pike). Just as Jenny's family's long-held dream of getting their brilliant daughter into Oxford seems within reach, Jenny is tempted by another kind of life.