About This Video
---
A clip/trailer of Twilight
Tags
:
Twilight
Type
: Movie Trailer
Views
: 15324
This Movie Info
---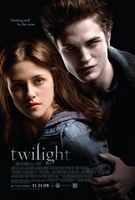 TWILIGHT is an action-packed, modern day love story between a vampire and a human. Bella Swan (Kristen Stewart) has always been a little bit different, never caring about fitting in with the trendy girls at her Phoenix high school. When her mother remarries and sends Bella to live with her father in the rainy little town of Forks, Washington, she doesn't expect much of anything to change.
Then she meets the mysterious and dazzlingly beautiful Edward Cullen (Robert Pattinson), a boy unlike any she's ever met. Intelligent and witty, he sees straight into her soul. Soon, Bella and Edward are swept up in a passionate and decidedly unorthodox romance. Edward can run faster than a mountain lion, he can stop a moving car with his bare hands - and he hasn't aged since 1918. Like all vampires, he's immortal. But he doesn't have fangs, and he doesn't drink human blood; Edward and his family are unique among vampires in their lifestyle choice. To Edward, Bella is that thing he has waited 90 years for - a soul mate. But the closer they get, the more Edward must struggle to resist the primal pull of her scent, which could send him into an uncontrollable frenzy. But what will Edward & Bella do when James (Cam Gigandet), Laurent (Edi Gathegi) and Victoria (Rachelle Lefevre), the Cullens' mortal vampire enemies, come to town, looking for her?
Comments
---

amazing
posted by

bella

on Mar 11, 2010

the story is ausome.......
posted by

girl

on Nov 22, 2009
this sucks, I cant watch the video..I love BElla SWan and Edward Cullen...Stephenie's doing great...
posted by

TEAM EDWARD & BELLA

on Sep 26, 2009

It is not opening....I love twilight and its sequels/ I read the books and saw the movie on Youtube and i want to watch again, but it isnt showing here!!!All it shows is a blank box
posted by

TWILIGHTER

on Sep 26, 2009

I LOVE TWILIGHT IT ROCXS AND I LOVE ALL THE ATORS THAT PLAY IT DEFINATLY EDWARD BECAUSE HE SPEAKS ENGLISH SOO I THINK IT IS REALLY AWSOME THE WAY HE CAN PUT ON AN AMERICAN ACCENT LIKE THAT U ROCK AND U R SOOOOOOOOOOOOOOOOO NICE I WOULD DIE IF U LEFT AGAIN AND I THINK ALICE IS REALLY CUTE AND I LOVE JASPERS HAIR :) :) :) :)
posted by

EDWARD LOVER

on Mar 11, 2009

I LOVE ROBERT PATTINSON HE IS SOOOOOOOOOOO HOT AND I THINK BELLA IS REALLY PREETY I WAS SHOUTING AT THE BOOK THE OTHER DAY BECAUSE I WANTED EDWARD TO COME BACK AND DON'T THINK SHE SHOULD HANG AROUND WITH JACOB SOO MUCH BUT IT IS EXCITING WHEN U DO THAT P.S I LOVE THE BOOK TWILIGHT IT MAKES U THINK THAT U REALLY R BELLA :)
posted by

EDWARD LOVER

on Mar 11, 2009

love you rob
posted by

lockhart

on Mar 08, 2009

I haven't even seen the movie yet, and I already love it! The characters are so real and natural!
posted by

inspired author 101

on Feb 07, 2009

i just love this movie & edward in this movie looks so hot. i should say that this movie is gonna be the best movie ever!!!!!!!!!!!!!!!
posted by

twilight rox

on Jan 18, 2009

i love edward
posted by

hi

on Jan 09, 2009

you kool
posted by

antonio

on Jan 06, 2009

this sucks! the video has been removed!
posted by

Veronica

on Dec 21, 2008

i want to watch the but it isn't opening whenever i try to open it it doesn't open it keeps writing [can't find server]
posted by

noonoo

on Dec 20, 2008

the movie is great i've never watched a movie bettr than this and edward is super cute!
posted by

sasha

on Dec 20, 2008

the video isn't opening. i'm bored you can't imagine how long i'm waiting to view this video. would you please view it quicker!
posted by

noonoo

on Dec 20, 2008

i love this movie it so freeken awesome. i cant wait until the dvd comes out and i cant wait to see new moon. team edward!!!!!!
posted by

Selene

on Dec 12, 2008

I love the movie. .. I cant wait to see the new moon...im reading it now.
posted by

Jvoy

on Dec 09, 2008

I love the movie. .. I cant wait to see the new moon...im reading it now.
posted by

Vjoy

on Dec 09, 2008
waiting for the next movie, New Moon!!
posted by

ris

on Dec 07, 2008
i do rally love this film so much! i've never been looking films like this. ilove the characters especially Edward Cullen oh fourthumbs up!
posted by

innan

on Dec 07, 2008

this movie is the best movie in the world! i've always been obsesed with vampires and when i went to the movies i watched it 4 times!
posted by

kim

on Dec 03, 2008