About This Video
---
This Movie Info
---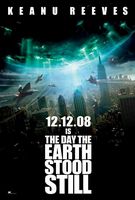 "The Day the Earth Stood Still" is 20th Century Fox's contemporary reinvention of its 1951 classic. Keanu Reeves portrays Klaatu, an alien whose arrival on our planet triggers a global upheaval. As governments and scientists race to unravel the mystery behind the visitor's appearance, a woman (Jennifer Connelly) and her young stepson get caught up in his mission - and come to understand the ramifications of his being a self-described "friend to the Earth."
Comments
---

dwayne bonello i love the day the earth stood still 1951 and the remake 2008 i love them booth and i will give 5stars
posted by

dwayne bonello

on Jun 01, 2012

YOU GUYS ARE GOOD ACTORS.
posted by

GOODIES

on Nov 02, 2010