About This Video
---

A clip/trailer of Incendiary
Tags
:
Incendiary
Type
: Movie Trailer
Views
: 1817
This Movie Info
---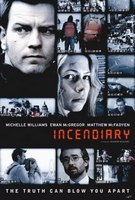 On May Day, life is perfect for a young mother (Michelle Williams) in her London tower block home overlooking a beautiful Georgian square. It's her little boy's birthday and she waves him off to the big football match with his dad. While they are away she runs into Jasper Black (Ewan McGregor), a journalist who lives in one of the grand houses below her window.
The last time they met she was beside herself with fear while her husband was away on bomb disposal duties. When charming Jasper came on to her as she took solace in a few drinks in the local pub, she couldn't resist him.
On this day she's tempted again. Later she can only watch in horror as their illicit sex is interrupted by live TV coverage of explosions ripping through the football stadium. Her husband and son are killed.
In the aftermath, struggling to deal with her guilt and grief, she rejects Jasper's attempts to comfort her. She finds herself drawn to her husband's boss Terrence Butcher, the police officer in charge of the investigation. As the two men fight over her, the real truth behind the events of May Day emerges.