About This Video
---
A clip/trailer of The Ramen Girl
Tags
:
The Ramen Girl
Type
: Movie Trailer
Views
: 1201
This Movie Info
---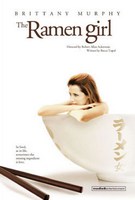 The Ramen Girl
Release Date :
February 08, 2008 European Film Market
Studio :
Media 8 Entertainment
Director :
Robert Allan Ackerman
Starring :
Brittany Murphy
, Toshiyuki Nishida, Tammy Blanchard, Kaori Momoi
Abruptly abandoned by her boyfriend, a young American woman (Murphy) finds herself suddenly alone and adrift in Tokyo. Lost in the shuffle of a foreign culture, and seeking to console herself, Abby winds up hanging out in her neighborhood ramen shop. After observing the magical effects of the shop's ramen on the customers, Abby convinces herself that her true path in life is to become a ramen chef. Abby persuades the shop's tyrannical, temperamental Japanese master chef to teach her the art of making ramen. And although their relationship is contentious and rocky, they both discover the most important ingredient of all - that each ramen bowl must contain a universe of feeling and truly be a gift from the heart.