About This Video
---

This Movie Info
---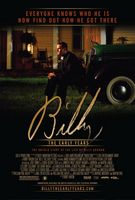 Everyone knows who he is. Now find out how he got there.
Most of us know Billy Graham as the self-assured and charismatic preacher who became one of the most important figures of 20th Century Christianity. Now, we meet Billy as the earnest and promising young man at the crossroads of faith and doubt, ultimately facing the moment of decision that launched one of history's most powerful evangelistic careers.
Most compellingly, Bill: The Early Years paints its portrait of Graham against the backdrop of his relationship with Charles Templeton, another gifted young preacher who's faith could not withstand the onslaught of scientific skepticism. He and Graham parted ways and in the film, Templeton comes to personify the rising tide of disbelief into which Graham launched his crusades.
Filmed in Tennessee, Billy: The Early Years captures the feel of the Depression-era tent revival where Graham heeded the altar call, and follows him through the doubt and resolution of the next decade. The film was directed by the versatile actor/director Robby Benson - the voice of The Beast in Disney's Beauty and the Beast.
Comments
---

Great Movie!!! Makes a compelling call for non-christians to look at Christian faith.
posted by

Bright

on Nov 13, 2008

MADE ME WANT TO FIND OUT MORE ABOUT HIM, HIS WIFE AND FAMILY.
posted by

Billy the early year

on Oct 12, 2008