About This Video
---

A clip/trailer of Cthulhu
Tags
:
Cthulhu
Type
: Movie Trailer
Views
: 1464
This Movie Info
---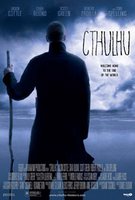 Cthulhu
Release Date :
August 22, 2008 Limited
Studio :
Regent Releasing
Director :
Dan Gildark
Starring :
Jason Cottle, Cara Buono, Scott Patrick Green, Robert Padilla
Adapted from a story by H.P. Lovecraft. A Seattle history professor, drawn back to his estranged family on the Oregon coast to execute his late mother's estate, is reaquainted with his best friend from childhood, with whom he has a long-awaited tryst. Caught in an accelerating series of events, he discovers aspects of his father's New Age cult which take on a dangerous and apocalyptic significance.