About This Video
---

This Movie Info
---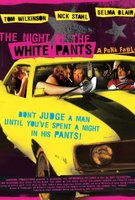 A bag full of drugs; an ex-trophy wife with a court order; a groupie searching for a judge; and an ex-CEO with nothing to call his own except the head of a deer. In a single summer night in Dallas, Texas, these things all come crashing together in a punk fable about letting go and learning how to say "F-*&% it all!"
Max Hagan (Tom Wilkinson) has spent a lifetime pursuing success, and has achieved it in spades. But when we first meet him, this absentee father extraordinaire is lying in bed in his once-swanky Dallas home, quietly contemplating how he managed to sell his multi-million dollar company, lose his HTW (Dallas-speak for "Hot Trophy Wife"), and allow his drug-addled son Millian to move back in. Max's daughter Beth (Selma Blair) owns a small record label and has just gotten a big offer to move to New York. But she is so obsessed with being normal that she can't see the cracks opening up in her own life. Only Max's disabled sister Lolly (Geri Jewell) seems to see what's happening, but no one is listening.
When Beth asks her father to finally meet her boyfriend, Raff (Nick Stahl) -- a kinda punk musician with latent ambitions towards software design -- she sets into motion a night for Max that sends his life on an enchanting turn for the worse. Over dinner, a high-strung Beth and a high-on-Xanax Millian start a fight, and Millian exposes Raff as his drug dealer. Before Beth and Max have had a chance to digest this, Barbara waltzes in with two Dallas cops and an eviction notice, leaving Max on the street, with no one to turn to but Raff.
Max and Raff couldn't have less in common. But starting at the club where Raff's band plays, they spend an increasingly surreal night together. Max finds his conservative demeanor and most of his self-control slipping away when an over-sexed, coke-sniffing groupie named Felicia (Laura Jordan) targets him. Before he can say, "Royal Fuck!" (Felicia's special toast), Max gives in, and finds himself not just following, but embracing the chaos that ensues. Meanwhile, Raff finds himself playing the role of straight man to the increasingly whacked-out Max -- and a reluctant bond begins to form between them.
As the evening wears on, the two find themselves managing a giant bag of pot, breaking into Max's own house to boost an envelope filled with cash, and searching for a judge at 2 am to marry a pair of rockers. Somehow, everyone winds up in the same suite at a posh Dallas hotel -- along with the police -- with all of them at a crossroads. Max's first ex, Vivian (Frances Fisher) has quietly been trying to help Millian get off drugs. But is it possible when the "new" Max bursts into her suite that she could actually be charmed by his sudden vulnerability? When Raff finds his own business opportunity in the hallway, will he understand his priorities in time to make a decision about moving to New York with Beth? As for Millian -- is there a chance that he can clean up for real when his own father is crazier than he is? And just who needs a judge to get married so badly, anyway?
When the air clears in the morning, Max has let go of everything he's believed he wanted, and found in Raff a strangely clear voice for what really matters. For the first time, facing his own mortality, Max begins to find a way back to the family that he had left behind.