About This Video
---

A clip/trailer of The Echo
Tags
:
The Echo
Type
: Movie Trailer
Views
: 1759
This Movie Info
---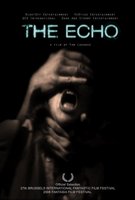 The Echo
Release Date :
May 25, 2009 Cannes Film Market
Studio :
Vertigo Entertainment
Director :
Yam Laranas
Starring :
Jesse Bradford
, Amelia Warner,
Kevin Durand
, Pruitt Taylor Vince
"The Echo" is a remake of the acclaimed Filipino thriller "Sigaw."
The story centers on a young ex-con (Bradford) who moves into an old apartment building only to learn his neighbor is an abusive police officer who savagely beats his wife and daughter. When the ex-con tries to intervene, he becomes trapped in a curse.