About This Video
---

A clip/trailer of The Cottage
Tags
:
The Cottage
Type
: Movie Trailer
Views
: 2148
This Movie Info
---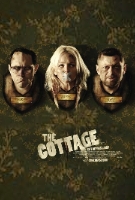 The Cottage
Release Date :
May 13, 2008 DVD
Studio :
Sony Pictures Home Entertainment
Director :
Paul Andrew Williams
Starring :
Andy Serkis
,
Jennifer Ellison
, Reece Shearsmith, Steve O'Donnell
In the dead of night, a car arrives at a secluded country cottage. Bickering constantly, brothers David (Andy Serkis) and Peter (Reece Shearsmith) climb out to inspect the hideway. The pair have set aside their differences for a quick moneymaking scheme - a kidnapping. Tracey (Jennifer Ellison), bound, gagged and unconscious, is locked in the trunk of the car. Her black sheep step-brother Andrew (Steve O'Donnell) is also in on the scheme. The kidnappiing however goes completely wrong with Tracey turning the tables on her captors and escaping with Peter as a hostage. David and Andrew follow them into the woods but they soon discover something far more terrifying is luriking in the darkness. The stage is set for a grotesquely comic battle for survival when our characters encounters a maniacal Farmer. Who will survive and what will be left of them?