About This Video
---

A clip/trailer of Fragile
Tags
:
Fragile
Type
: Movie Trailer
Views
: 1785
This Movie Info
---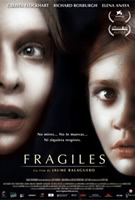 The Mercy Falls Children's Hospital is about to close its doors for good. But the closing process is taking longer than expected; a railroad accident has left the local hospitals without beds.
Amy (Calista Flockhart), a young nurse, is sent to help out. But the children are nervous. And afraid. Because this hospital holds a secret. Something terrifying that has returned from the past.
To discover it and protect the kids, Amy must face up to everything: the rest of the hospital staff who refuse to accept the obvious, her own fears, and the truth.