About This Video
---
A clip/trailer of Trade
Tags
:
Trade
Type
: Movie Trailer
Views
: 1602
This Movie Info
---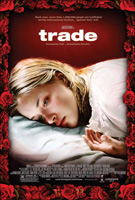 Trade
Release Date :
September 28, 2007 Limited
Studio :
Roadside Attractions
Director :
Marco Kreuzpaintner
Starring :
Kevin Kline
, Cesar Ramos, Alicja Bachleda, Paulina Gaitan
When 13-year-old Adriana (Paulina Gaitan) is kidnapped by sex traffickers in Mexico City, her 17-year-old brother, Jorge (Cesar Ramos), sets off on a desperate mission to save her. Trapped by an underground network of international thugs who earn millions exploiting their human cargo, Adriana's only friend throughout her ordeal is Veronica (Alicja Bachleda), a young Polish woman captured by the same criminal gang. As Jorge dodges overwhelming obstacles to track the girl's abductors, he meets Ray (Kevin Kline), a Texas cop whose own family loss leads him to become an ally. From the barrios of Mexico City and the treacherous Rio Grande border, to a secret internet sex slave auction and a tense confrontation at a stash house in suburban New Jersey, Ray and Jorge forge a close bond as they frantically pursue Adriana's kidnappers before she is sold and disappears into a brutal underworld from which few victims ever return. Inspired by Peter Landesman's chilling NY Times Magazine story on the U.S. sex trade, "The Girls Next Door," "Trade" is a thrilling story of courage and a devastating exposť of one of the world's most heinous crimes.