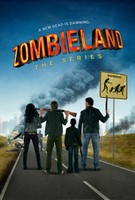 TV Info
---
Category
TV Series

Genre
Horror, Comedy

Starring :
Kirk Ward, Maiara Walsh, Tyler Ross, Izabela Vidovic


April 18, 2013 03:04:11
Amazon has debuted the first trailer for "
Zombieland
", a series adaptation of the 2009 cult comedy film of the same title. With Rhett Reese and Paul Wernick, writers of the original work, involved in the series, the show still has the interesting combination of action, horror and comedy shown in the film.
Similar to the big-screen version, the online series follows a group of four survivors, Tallahassee, Wichita, Columbus and Little Rock, who are outwitting zombies and searching for a place to call home. The characters, who were made famous by
Jesse Eisenberg
,
Woody Harrelson
,
Emma Stone
and
Abigail Breslin
in the film, are played by Tyler Ross, Kirk Ward, Maiara Walsh and Izabela Vidovic.
...
October 18, 2011 02:10:37
Becoming a surprising hit in 2009, "
Zombieland
" is being developed as a TV series. New York Magazine's Vulture has learned that FOX Broadcasting and Sony Pictures Television are working to get the small screen version of the zombie-themed movie ready to air in 2012 or 2013.
Confirming the news, producer Gavin Polone said that "Zombieland" was initially conceived as a TV show before heading to the big screen. Back in 2005, CBS ordered a pilot script for the concept, but passed on it after taking "all the good stuff out," Polone revealed. Syfy was later interested in it, but financial issue prevented the network from giving a greenlight to the project.
...