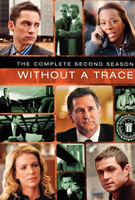 September 16, 2008 10:09:54
CBS' Golden Globe-winning series, "
Without a Trace
", is going to enter its new season and a promo for it has just been released. The seventh season will open with an episode called "Closure" on Thursday, September 23 at 10:00 P.M.
As a refreshment, the series' producers have brought in a new boss for the FBI team. Actor
Anthony LaPaglia
who portrays lead character Jack Malone steps down from his role temporarily because Jack has to deal with the implication of his action in the previous season where he got seriously wounded.
...