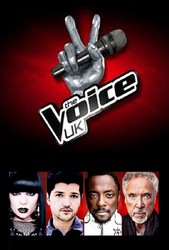 TV Info
---

With millions of viewers around the world, The Voice is one of the biggest international TV formats of the past few years. And now it's arrived in the UK.
The premise is simple: the search for the UK's next great voice. Only people with real vocal talent will be invited to blind auditions, where each artist auditions in front of four A-list coaches. But unconcerned with appearance, their auditions are about one thing and one thing only: the voice.
The artists are selected, mentored, and trained by four of the most successful figures in the music industry: Jessie J, will.i.am, Danny O'Donoghue and Sir Tom Jones. After selecting their favourite artists at the blind auditions, the coaches develop them through the remaining stages until one artist is crowned as 'the voice.'The Blind Auditions.
The show's format is made up of three stages: the Blind Auditions, the Battles, and the Live Shows.
During The Blind Auditions, the coaches are seated in chairs facing away from the stage, they hear the artists perform but don't get to see them. If a coach is impressed by an artist's voice, they push their button to choose the artist for their team, at which point their chair rotates and they can see them. If more than one coach turns their chair, the power shifts to the artist and the artist then has the choice of which of the coaches teams he or she wants to join.
Once the coaches have chosen their teams, it's time for battle to commence. Coaches dedicate themselves to developing their artists, helping them improve their vocal ability and sharing the secrets of their success. During the Battles, the coaches pit two of their own acts against each other to sing a competitive duet in front of a studio audience. Immediately after the battle performance, the coach must choose which artist will go through to the live shows.
At the end of the Battles, each coach will take 5 contestants through to the live shows. This is the final phase of the contest, the artists compete against each other during several live shows on BBC One and the audience get to vote. Ultimately just one will be named "The Voice" - and will win a recording contract with Universal Music.