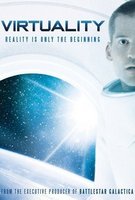 TV Info
---
Category
TV Series
Genre
Drama, Action, Adventure, Sci-Fi
Starring :
Clea DuVall
, Erik Jensen, Gene Farber,
James D'Arcy
, Jimmi Simpson, Jose Pablo Cantillo, Joy Bryant, Kerry Bishe, Nelson Lee,
Nikolaj Coster-Waldau
, Omar Metwally, Richie Coster,
Sienna Guillory

"Virtuality" focuses on the 12-member crew of Phaeton, a starship that leaves Earth on a 10-year exploratory mission. The ship has been equipped with state-of-the-art virtual reality modules that let the crew escape their constrained surroundings. Of course, when things start going wrong with the virtual reality, there are serious repercussions.