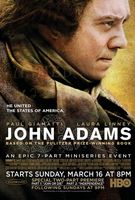 TV Info
---
Category
TV Series
Genre
Drama, Biography, History
Starring :
Paul Giamatti
,
Laura Linney
,
Stephen Dillane
,
David Morse
,
Tom Wilkinson
,
Rufus Sewell
,
Justin Theroux
, John Dossett,
Sarah Polley
, Samuel Barnett,
Danny Huston
, Clancy O'Connor, Andrew Scott,
Tom Hollander

January 12, 2009 04:01:03
The annual end of year promo from HBO that displays their transition from the year 2008 to 2009 has been released. Beside recalling flashes of their last year's programs, the network also give a sneak peek on what to expect in the new year.
Closing on TV programs such as "
John Adams
", "
True Blood
", "Recount" and "
Little Britain USA
", HBO will open the door for the new ones such as "
The No 1 Ladies' Detective Agency
", "
Flight of the Conchords
" and "Curb Your Enthusiasm". They will also welcome new shows like made for TV movie, "Taking Chance" and "Grey Gardens", the former which stars
Kevin Bacon
and the latter which features
Drew Barrymore
.
...