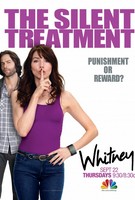 TV Info
---
Episode Premiere
November 03, 2011

Distributor
NBC

Genre
Comedy

Show Period
2011 - 2013

Production Company
Stuber Productions, Universal Media Studios


Cast and Crew
---
Director
Andy Ackerman
Screenwriter
Mathew Harawitz
Main Cast
Synopsis
---
Alex and Mark sit on the couch in Alex and Whitney's apartment, watching the game. When Mark throws his beer can away in the trash instead of the recycling, and Alex asks him nicely to put the can in the correct bin, Mark is surprised that Alex actually recycles when Whitney's not around. The fact that Alex is having dinner with Whitney that night further fuels the fire - clearly this isn't just about one measly can.
Yet the guys continue to argue about the can, as Mark acts like a child and refuses to recycle it. Whitney comes home to discover the feud and interrogates Alex to try and get to the bottom of what caused it. Alex insists that the fight will just blow over, until Mark comes to the apartment to return a box of Alex's things. It appears as though the two have just "broken up" over a beer can.
Later Whitney explains what went down to the gang and notes that Alex doesn't seem to be taking their breakup very well. Mark arrives and acknowledges that when there's a falling out people have to take sides, and he makes his case to the group for why it's always smart to side with a police officer.
Back at the apartment, Alex is doing what he always does during a breakup: keeping himself busy. This time, it's an exercising kick. Whitney offers to fill in for Mark and accompany Alex to "Wingsday Night," their weekly chicken wing tradition at a local bar.
"Bros night out" with Whitney doesn't go quite as planned. Whitney can't stomach the fiery hot chicken wings, and the two run into Neal and Mark. Alex's solution is to do what any real man does during a breakup: get blackout drunk.
This is a disaster; Mark and Alex have to get back together. But guys can't solve these problems on their own, so Whitney's forced to take matters into her own hands. She shows up at Mark's apartment with wine and ice cream, so she and Mark can talk it out. It turns out Mark's an easy one to crack; he quickly unloads his feelings of jealousy. Mark explains that the closer Alex and Whitney get, the more he feels like a third wheel. Whitney convinces Mark that she and Alex aren't going anywhere, and that Mark is an important part in both of their lives.
Whitney drags Mark to their apartment to apologize, but things don't go exactly as she'd hoped. Their problems are resolved through inside jokes rather than actual apologies, but that's just how guys are! Before the guys take off to a bar to watch the game, Mark makes a show of amnesty by recycling his water bottle.