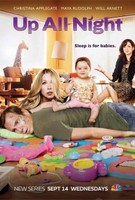 TV Info
---
Episode Premiere
March 01, 2012

Distributor
NBC

Genre
Comedy

Show Period
2011 - 2013

Production Company
Broadway Video Television, Universal Media Studios


Cast and Crew
---
Director
Randall Einhorn
Screenwriter
Erica Rivinoja
Main Cast
Synopsis
---
Reagan excitedly baby talks to Amy about her big day. Today is the day Reagan will meet Yvonne, the "icon of lady business." Years ago in college, Reagan meet Yvonne, and she was an inspiration for any aspiring women in business; and now Yvonne has bought The Ava Show, and Reagan's looking forward to learning from her first hand. Ava suddenly walks in, wilting like a dying flower. Kevin has left her for a job opportunity in Idaho. "This is not the first time that a man named Freddie Mac has ruined my love life," Ava says as she pours herself coffee. Suddenly Ava notices a "For Sale" sign in front of Kevin's house. She immediately runs outside and rips it down; if no one buys his home, maybe Kevin will have to come back.
Chris and his friend Reed take their kids on a walk through the neighborhood. They start talking about cars to sound manly, but both soon realize they know nothing about them. Reed mentions that he just inherited a broken motorcycle from his dead uncle, and maybe they could try to tinker around with it. "I've always wanted to be one of those guys," Chris excitedly says. Later, Reed and Chris go gaga over the motorcycle as they look over it. They throw out all the known cliches about riding a "hog." Chris pulls out his toolbox to start working on the bike, but he realizes he only has a wrench and soy sauce packets in the box. "Tool run!" Reed and Chris both scream aloud as they literally run to the store.
Reagan nervously prowls the office getting things perfect for Yvonne when she scolds Missy for preparing a honeydew swan for food. "Honeydew is filler melon," she tells Missy. Reagan wants a power breakfast with egg whites and berries. "Sorry, I don't know what's classy," Missy says, "I grew up behind an Arby's." Yvonne enters the office and begins to shake everyone's hand, making each individual feel like the center of her universe. "That hand shake was electrifying," Ava exclaims. "That's the power of YES - Yvonne Encanto Syndicates," Yvonne responds.
Yvonne meets with Ava, Reagan and Missy to give them her philosophy on a successful life. "I never stop moving," she tells them. "Don't have a chair in my office, haven't taken an elevator in 20 years, and to blow off steam I run six to eight miles a day." Luke Granby, a war hero that served two tours in Afghanistan and Yvonne's right-hand man, abruptly joins the ladies. Yvonne tells the ladies that nothing arouses her more then strong beautiful woman in power; that's why she likes The Ava Show. It's a good show, but it's time to up the ante and make it ready for greatness. Then Yvonne abruptly walks away and leaves Luke in charge. "I don't want a man in my lady business!" Reagan exclaims as she realizes Luke may now be her new boss.
Chris and Reed arrive back from their tool run wearing all biker leathers and "beast" helmets. They are really getting into the lifestyle that riding a bike entails: the attitude, the language and the outfits. Chris and Reed are awkwardly working on the motorcycle when Gene walks over. Chris tries to brush Gene off, but Gene tells them he used to work at a hog shop and can help them fix the bike. Chris and Reed have a quick sidebar to figure out if they should let Gene into the group. They both agree he's not very cool, but he knows more about bikes than both of them combined. "Hot dog!" Gene says as they tell him he's made it into the group.
Reagan and Ava walk into Luke's new office. He says they shouldn't feel threatened by his presence; he's just an extension of Yvonne. "Just think of me as one of the gals," Luke says with a smile. He tells them his history; how he was a bad seed only worried about tweaking and freaking until he found the United States Army. After his tour ended, Yvonne gave him a new purpose in life, a purpose he wants to share with everyone on The Ava Show. Luke is excited to make Ava's fifth anniversary show one to remember; he just needs Reagan to hand him a creative brief for approval. Reagan and Ava are taken aback; they are the ones to have complete control. Luke reassures them that Yvonne is the big boss, and since he's an extension of Yvonne, he controls the purse strings and gets final approval.
The bike is fixed and ready to roll, but all of the guys are too scared to ride it on the street. "We set out to build a motorcycle to prove our manhood, but by succeeding, we've merely illuminated the limits of our manhood." Reed theorizes aloud. Suddenly Reed gets psyched to ride the motorcycle. He starts up the bike, rolls to the street, and spectacularly crashes before the bike reaches the road. Luckily, his new leather biker pants saved him from any harm.
Later at night, Reagan works on her computer in bed as Chris looks at pictures of Amy on his phone. He show's Reagan a cute picture of Amy, but she is too distracted by the idea that she now has a boss to answer too. "Here's your creative brief, Luke." Reagan says, as she types "no" in giant letters and emails it. Realizing Reagan was not paying attention to any of the cute Amy photos, he takes out an old contract from his dresser that Reagan wrote before heading back to work. He reads from the contract that Reagan promised to keep her work life and home life separate and she will be present for her daughter, which she is now in violation of. Reagan reluctantly puts down her computer and looks at the Amy photos.
The next day, Reagan arrives to work and finds Luke waiting for her. He appreciates her input, but because he couldn't budget for the show, all of the perks Reagan normally enjoys had to be cut. Reagan finally blows up at Luke; she's going through lots of pressure, and she does not need a new know-it-all man to tell her how to run the show. Chris calls Reagan and notices the stress of tears in her voice and thinks Luke in overstepping his bounds. Chris is so livid that someone could hurt Reagan that he swallows his fear, jumps on the motorcycle and rides to her rescue. "That's what the beast does!" Chris screams out as he proudly rides the motorcycle 25 miles an hour.
Chris arrives at Reagan's office and confronts Luke. "I'm your worst nightmare," Chris says in his deepest voice. "You made my wife cry and now I'm going to make you cry." Reagan quickly rushes in to stop the commotion before it gets out of hand. She takes Chris by the hand and drags him away, telling him she can take care of herself. Besides, Luke was in the army and could kill Chris with one blow. Later, Luke walks into Reagan's office to make peace. She's super talented and able to raise a baby while dealing with a psycho biker husband, but right now he needs her to calm Ava down. They have a fifth anniversary show in two hours, and Ava refuses to participate.
Reagan and Ava stand outside Kevin's old house. They place the For Sale sign back into the ground and pour a forty of beer on the ground to commemorate Ava's loss. As the last of the beer hits the ground, Ava is ready to move on to the next phase of her life. Back at The Ava Show, Ava thanks the viewers for watching, as a kangaroo and other odd guests fill the stage. "Well see you on the 10th, so keep on watching in between," Ava says as the show comes to an end. Luke walks up to Reagan and congratulates her on a job well done. Peace between them has been achieved, for now.
After the show, Reagan finds Chris sitting on his bike waiting for her. Chris tells Reagan how he was so revved up with coming to her rescue that all that adrenaline is now gone and he's afraid to ride the bike again. Reagan laughs as she takes her husband by the arm and walks with him to her car. Later, Reagan makes out with Chris in his leather biker gear. She's ready to move to sex but Chris can't get himself out of the leather pants. "So close," Chris cries out in pain. "If you just grab one of the ankles... otherwise I'll have to cut myself out." Reagan turns over in frustration and decides to just go to sleep.