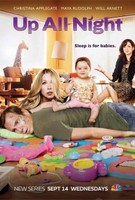 TV Info
---
Episode Premiere
December 07, 2011

Distributor
NBC

Genre
Comedy

Show Period
2011 - 2013

Production Company
Broadway Video Television, Universal Media Studios


Cast and Crew
---
Director
Troy Miller
Screenwriter
Tucker Cawley
Main Cast
Synopsis
---
Reagan and Chris stop to quietly mock Gene and Terry who've decorated their home with gaudy holiday decorations. When the neighbors burst into a carol, Reagan and Chris realize there's nothing to do but flee.
After seeing Gene and Terry's house, Reagan's bummed by her undecorated home. Reagan noticed that Amy actually liked Gene and Terry's house. Maybe it's time she decorated their home too. Ava looks forward to a sexy ski trip with Kevin. She tells Reagan about her excitement. Chris crosses over and pulls Ava aside. He needs advice: what should he get Reagan for Christmas? Ava recommends nice jewelry naturally.
Later, Reagan decides to decorate her house. It's a winter wonderland, and Amy's looking like she's loving it. Kind of. Then Reagan says she and Chris shouldn't go crazy with gifts this year. He plays along. Kevin breaks some bad news to Ava: he tells her he can't go with her on a ski vacation. He thinks it's better if he spends Christmas with his ex so that his daughter McKenna deals with their divorce as easily as possible. Ava is secretly crushed but pretends to understand.
Ava tweets from her trip, pretending to have a wild time. Later, Reagan's mom arrives, noting the extensive Christmas decorations. Reagan knows Christmas isn't exactly her intellectual mom's cup of tea, but she's determined to keep her home festive. Moments later, Ava arrives. She actually never went on the vacation; she just wanted Kevin to think she did. Ava spies on Kevin and his ex-wife Claire as they make their way into the house. Chris encourages Ava to talk to Kevin about her jealousy. Ava says she can't; she's pretending to be in Utah!
Reagan goes to the store to pick up her Santa. The employee claims someone else took the Santa. Reagan's livid and tells the employee he better find her a Santa. Angie notices Chris looking online for a Christmas gift for Reagan. Angie tells Chris he doesn't need to give Reagan a gift; he chose to stay-at-home and give up bringing home a paycheck. He doesn't need to get Reagan jewelry. Chris pretends to agree, but secretly, he thinks of ways to raise money to pay for a gift for Reagan. Later, Ava tells Chris how much she cares about Kevin. Chris tells her the obvious: she's in love with Kevin. Then he leaves to get Reagan a gift.
Angie brings Reagan a Santa! She stole it just for Reagan. Meanwhile, Chris is overwhelmed by the aggressive shoppers at the mall. Later, Reagan and Angie struggle to put the stolen Santa on the roof. It falls into a clump on the ground. Hours later, they do too! Later, Ava intrudes on Reagan's neighbors' home in order to spy on Kevin and Claire. Ava pretends to award them with a home makeover.
Kevin visits Reagan's house and sees Ava in the living room. Ava decides it's time to tell Kevin the truth. She admits to spying on Kevin and dealing with pangs of jealousy. Kevin responds by saying he loves Ava. They kiss. Finally, Chris surprises Reagan with a diamond bracelet. Reagan's overjoyed. Finally, Gene and Terry come by with their children and a never-ending series of carols.