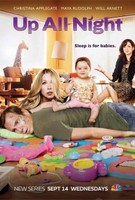 TV Info
---
Episode Premiere
October 19, 2011

Distributor
NBC

Genre
Comedy

Show Period
2011 - 2013

Production Company
Broadway Video Television, Universal Media Studios


Cast and Crew
---
Director
Randall Einhorn
Screenwriter
Caroline Williams
Main Cast
Synopsis
---
Reagan works on her "birthing plan," the only thing that relaxes her during her pregnancy. Later, Reagan and Chris watch a birthing video that manages to disgust both of them completely.
Ava interviews Libby, a woman who claims she didn't actually know she was pregnant until she went into labor. Later, Barry "the internet guy" annoys Ava with his slowness. She jokingly says Calvin, her driver, would do a better job. Reagan is visibly pregnant and manages to nearly traumatize Ava when she lifts her arms and displays armpit sweat stains. Reagan holds a meeting to tell her Ava Show colleagues that they'll have to function well while she's on maternity leave.
At Chris' law firm, Chris' colleague warns him that taking paternity leave could jeopardize Chris' career. Chris is insistent; he says paternity leave is a good thing and will allow him to play an active role in his child's life. Back at the Ava Show, Reagan's gone into labor. Predictably, Ava offers no advice but just runs around screaming.
On the way to the hospital, Reagan realizes it'll be her last couple of moments before she's officially a mom. She tells Chris they should do something reckless, like stick their heads out of the sunroof and scream. Back at the Ava Show, Ava tries to avoid visiting Reagan at the hospital. Missy tells Ava it's normal to fear change, but she's got to build up the courage to see her best friend through this process. As a show of courage, Missy says she'll cut her hair - which she hasn't trimmed since seventh grade - if Ava goes to the hospital to visit Reagan.
At the hospital, Gene and Terry laugh at Reagan's "birth plan" idea and her insistence on a natural birth. They remind her that giving birth is excruciatingly painful and nobody can predict how long the process will last. Later, Reagan's upset when she realizes her female doctor is unavailable and will be replaced by a gorgeous male doctor. She's terrified she'll defecate during labor and this hot doctor will see. Already, it looks like nothing will go according to Reagan's birth plan.
Ava finally builds up the courage to visit Reagan in the maternity ward. Ava even offers to give Reagan some marijuana if things get too painful. Reagan says she'd prefer a headband to tame her wild hair. Reagan's in pain until she gets an epidural; then she's a slurring mess, commenting on the hotness of her new doctor. When the doctor recommends a C-section, Reagan nearly loses her mind. She's forced to watch as her birth plan crumbles around her.
Ava brings Reagan a headband, and finally, Reagan's only moments away from meeting her baby girl. Chris accidentally plays his workout mix on his iPhone, and luckily, it does the trick, bringing a smile to Reagan's face. Finally, little Amy is born. Chris calls his law firm, letting them know he's going to take a nice, long paternity leave. It's official: Reagan and Chris are parents.