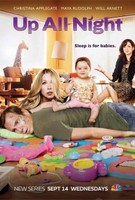 TV Info
---
Episode Premiere
September 14, 2011

Distributor
NBC

Genre
Comedy

Show Period
2011 - 2013

Production Company
Broadway Video Television, Universal Media Studios


Cast and Crew
---
Director
James Griffiths
Screenwriter
Emily Spivey
Main Cast
Synopsis
---
Reagan and Chris Brinkley sit on the bathroom floor scanning pregnancy tests. Hands shaking, Reagan wonders what two lines and a smiley face mean. It hits her that she's pregnant. They're anything but excited. A few moments pass and Reagan finally admits that having a baby might be a good thing. Seeing the glass half-full, she asserts that a baby is a good thing because one day Chris is going to die, and then she won't have to be alone. The fuzzy slippers, shaking hands and overall distressed exteriors might make their parenting skills questionable, but after letting it sink in, they share a smile and a little glimmer of hope arises.
It's nine months later. Baby Amy has arrived, and Reagan and Chris look at her in amazement. They're so moved that they can't help but cuss inappropriately. It's several months later and Reagan is leaving for work. While getting ready, she talks to herself, mentally preparing for the first day back on the job. Before Reagan leaves, she talks to Chris about taking care of Amy. It's clear he's nervous but up for the challenge.
Reagan returns to work at The Ava Show. Her colleague, Missy, tells her what a mess things have been in Reagan's absence. Then Ava enters the picture, devouring chocolate cake and other carbohydrates. Ava expresses how happy she is that Reagan is finally back. Without Reagan, the shows have lost some of their substance.
At home, Chris sits alone with Amy. He explains how similar Amy is to him - after all, she's got "quads of steel." Meanwhile, Ava and Reagan decide that the office is going to do a dietary "cleanse." Everyone will abide by the rules, and then they'll do a show about it. Suddenly, a panicked Chris calls Reagan from the grocery store. He's freaking out because he cannot find the cheese.
Reagan comes home to find Chris playing video games. He explains that he's online gaming with a father he met at the park. Reagan notices that he bought the wrong cheese, but he did manage to make a list of things they should do on their anniversary. She's very happy with what he's planned. Suddenly, Ava bursts into the house with a gift basket. It's the worst baby gift ever - wine, cheese, etc. - but it's very adult-friendly. Just as Ava opens a bottle, Amy starts crying and the three-person party is ruined. Later that night, Reagan and Chris argue about who actually got the least amount of sleep.
At work the next day, Reagan finds out that the "cleanse" has serious side effects. The Ava Show needs a new idea for Monday's show, so Reagan has to stay late to brainstorm. Reagan calls Chris to cancel their anniversary plans that night. He seems to understand but is obviously a little disappointed.
Reagan comes home very late and apologizes to Chris. Chris reminds her that he left his law firm so that she could continue to work and he could take care of Amy. He understands the demands of a busy office. Reagan has a mini-breakdown; she loves Amy, but she also misses the old days. She checks the time and realizes that it's still their anniversary. Party time!
Reagan and Chris go out and make up for the anniversary that they almost missed. They have dinner, drink, dance and down some shots. Chris reminds Reagan that they shouldn't overdo it, but she mishears him and - what else? - overdoes it. They even sing some karaoke. Soon Ava shows up with a small entourage and participates in the festivities.
The next morning, Reagan and Chris wake up with nasty hangovers. Amy starts crying, and they muster all their strength to help her. They finally get up to change a diaper, and this small task becomes a big struggle due to their exhausted state. Then Ava rings the doorbell and invites Reagan to Santa Barbara for a barbeque. Chris is okay with it, but Reagan decides not to go.
Reagan, Chris and Amy lie in the grass outside. Reagan tells Amy that even if she has to work late every night, she'll be there every morning for her daughter. She goes on and lists some of the biggest moments Amy will have in her life - starting school, prom - and assures her that she'll be there for those, too. Chris just watches and smiles. It's a truly beautiful moment... and then they are cussing again.