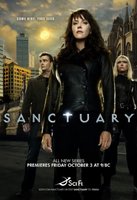 TV Info
---
Episode Premiere
June 13, 2011

Distributor
Syfy

Genre
Sci-Fi, Crime, Mystery

Show Period
2008 - 2012

Production Company
Sanctuary 1 Productions


Cast and Crew
---
Director
Martin Wood
Screenwriter
Damian Kindler
Main Cast
Synopsis
---
Will and Magnus seem to be trapped in some sort of dream world where Will is a cardiologist married to a pregnant Abby, and Magnus is a reclusive painter getting a divorce from John Druitt - an attorney, in this world. They both know there's something amiss, but neither can place exactly what it is until they both start drawing blue figure eights on whatever surface is nearest.
When Magnus tries to buck her life as an affluent painter, John arrives and begs her forgiveness, attempting to pull her deeper in to the sticky sweet world of suburbia. Will can't remember simple cardiology terms like "anticoagulant," and when he expresses his concern to Abby, she storms outside in fury and collapses to the ground. Magnus sees them and rushes to help, perplexing both herself and Will with her medical expertise, which Will is sorely lacking.
This event catapults both of them toward greater understanding. The next day, Will visits Helen's house to work out just what is happening to them. They know things about each other that they shouldn't know - she knows him as a psychologist, and he knows her not as Helen Druitt, but as Helen Magnus. As they uncover the mystery, they share with each other the nightmares they've been having of being stuck in containment tanks in some sort of research lab, where every time they try to escape, they're drugged even more heavily.
They decide to put this compelling coincidence of identical dreams to the test by drugging themselves asleep. Just as suspected, their dreams run on parallel tracks. They must take drastic action in order to free themselves from this illusion of life. Helen is the first to suggest it: They have to cut themselves free of all attachment to what they think is real, but this measure - suicide - frightens Will. What if Abby really is his wife, pregnant with his child? But the torture that something more exists beyond his picture perfect environment overtakes him, and he and Magnus take the leap, literally, by driving off a cliff.
When they wake, they are in the lab of their nightmares, but this time there's no one trying to drug them or strap them down. Magnus is not surprised to see Red List dealer Virgil St. Pierre. His concern for her well-being is disorienting, considering the trial she's been through at his hands, but nothing could prepare her for the appearance of Henry and Kate moments later.
They explain that a previously unknown Abnormal that must have risen from Hollow Earth stung them with a psychoactive venom, and that Virgil had worked with them to develop a gel that would reverse the effect. The catch was that Magnus and Will had to come to terms with the unreality of their dream state in their own time - hence the force administration of tranquilizers and sundry drugs.
Will and Magnus are happy to be fully conscious again, but this means they realize how much work lies ahead of them, considering the Hollow Earth breach, and hurry back to the Sanctuary.