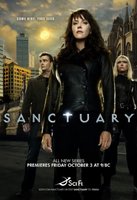 TV Info
---
Episode Premiere
May 09, 2011

Distributor
Syfy

Genre
Sci-Fi, Crime, Mystery

Show Period
2008 - 2012

Production Company
Sanctuary 1 Productions


Cast and Crew
---
Director
Peter DeLuise
Screenwriter
Miranda Kwok
Main Cast
Synopsis
---
In order to make up for their botched first date, Will is taking Abby to the private dining room at Alfredo's. On their way out, they bump into Henry and his girlfriend, Erika, the HAP from the facility in England - also on their way to the one and only private dining room at Alfredo's. Will says Abby's near-death experience trumps Erika's last night in town, but Henry states that he should have the private room, since he's planning to propose to Erika. Magnus, however, may have the solution: Neither of them get to go, since they are the only ones available to pick up a larval moth creature and bring it back to the Sanctuary.
Their hands tied, the foursome heads to the rendezvous point and meets with the dealer. On their way back to the Sanctuary, however, the moth creature bursts from its refrigeration unit and flies into the city's gutter system. Their dates now thoroughly scuttled, Henry and Will set up to recover the Abnormal without harming it. Henry and his technological-genius girlfriend set up an audio recording to lure the creature back to the van, while Abby and Will head into the sewers in hopes of tranquilizing it. But just as they catch sight of the giant moth, Abby's cell phone rings, spooking the moth and sending it careening above ground.
Henry and Erika have managed to complete their audio project, but it has the reverse effect on the moth: Instead of soothing him, it enrages him. He thinks it's a sexual competitor! Will makes a panicked call to the dealer who handed the beast off to them in the first place, begging for help. The dealer sneeringly sends them an audio file of a female of the species. Will downloads it and amplifies it, and it does the trick, calming the giant flier long enough that they can sedate it and bring it back to the Sanctuary.
Henry bids a tender farewell to Erika, but he can't let the moment pass. He brings out the ring and asks her to stay just as she brings out a plane ticket and asks him to go with her. Their hearts break as they realize that neither one can leave their home. Although they love each other, they can't be together - at least, not now.
Magnus catches Henry, who is finding comfort in the rightness of his place at the Sanctuary, and demands that he help her on a "project": Dinner, delivered by the legendary Alfredo. Will and Abby, whose date ended on a much brighter note, smell the divine agnolotti, and sneak in, half-clad, steal some of the peerless vittles, and titter off to their private room again.