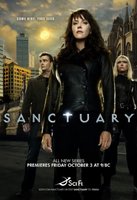 TV Info
---
Episode Premiere
October 22, 2010

Distributor
Syfy

Genre
Sci-Fi, Crime, Mystery

Show Period
2008 - 2012

Production Company
Sanctuary 1 Productions


Cast and Crew
---
Director
Martin Wood
Screenwriter
Damian Kindler
Main Cast
Synopsis
---
Big Bertha has been contained and mollified, making Magnus's return to her seat as the head of the Sanctuary network relatively smooth, but doubts still remain as to her fitness to govern. Magnus, however, can hardly be bothered to politick while Will, only recently back from the dead, is in such a precarious state. Weeks after his trip to the other side, his condition is worsening and he can't remember anything that happened on that journey.
After a vote reinstating Magnus in her rightful position and eliminating Wexler from the Sanctuary network, Magnus puts Will on a heavy sedative and turns her attention to solving the mystery of what caused the land-based earthquakes that quelled the final tidal wave in the Indian Ocean. Kate thinks she knows of an abnormal that could be capable of such a feat, but their investigation is cut short when the Big Guy, who's been watching over Will in the medical bay, discovers humanoid beings attacking Will. How these beings got into the Sanctuary - or how they manage to slip away, as they do right out of the Bigfoot's grasp - is a mystery. But they leave behind clues: an egg-shaped probing device, and a neat puncture wound on the back of Will's head.
The team sets about the task of capturing and studying these strange beings, who let off such a strong masking odor that neither Henry nor Bigfoot can sense anything coming, and whose bodies are able to reflect their surroundings and make them effectively invisible. Henry crafts a device that will detect the strongest concentrations of this masking odor, and, using Will as bait, manages to find and trap the two intruders. Magnus puts them in constraints in an observation bay, and moves once again to the most pressing problem - this time, why the beings were using the probe on Will.
Henry and Kate eventually get the probe to work for them, and learn that it is used on a person's memory, either to make painful memories less shocking, or to remove memories, altogether. Putting it on the lowest setting, they convince Will to let them attach it to his brain, and the result is remarkable. Will relives his experience of traveling to the temple of the gods, the home of Kali, where he begged for, and received, help from her cohorts in quelling the destructive waves she had created - an image that confirms Kate's theory of a mega-abnormal creating the earthquakes in question.
But Will recalls another moment from that voyage: Gregory Magnus, Helen's father, was also in the temple of the gods, and he delivered a message to Helen via Will. On his return to consciousness, Will tells Helen of the mysterious symbol Gregory showed him, accompanied by the numbers 26 and 34. Thinking quickly, Helen gathers the gifts from her 26th and 34th birthdays that her father gave her: A paperweight and a notebook of Michelangelo's. The mysterious symbol is present in each of them and, when she aligns them with each other, they produce a holographic image of an enormous, elegant, advanced city. The team has no idea how, where, or even if this city exists - but they are determined to find out