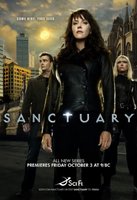 TV Info
---
Episode Premiere
November 20, 2009

Distributor
Syfy

Genre
Sci-Fi, Crime, Mystery

Show Period
2008 - 2012

Production Company
Sanctuary 1 Productions


Cast and Crew
---
Director
Amanda Tapping
Screenwriter
Alan McCullough
Main Cast
Synopsis
---
Will is shocked when Declan Macrae (Robert Lawrenson) reveals that Bigfoot is dead...and his shock reaches critical levels when Declan declares that the top suspect in the killing is Dr. Magnus.
Unfortunately, Declan has forensic evidence, and Magnus has no memory of the past week of her life. Will doesn't believe Magnus is capable of such an act, but Declan is taking no chances: He's bringing in a Triad, a trio of psychic investigators who will probe Dr. Magnus's mind.
Suspicious of Declan's motives, Will conducts his own investigation. At the crime scene, he sees the wiring for a surveillance camera, which he orders Henry to find in the police database. The Sanctuary's tech guru is also on the job, discovering scans of Magnus's brain and e-mails that seem to indicate some slippage on her part.
Meanwhile, the Triad arrives, led by the lovely Emma (Erica Cerra). A declared fan of Magnus, Emma seems well-intentioned, but her ability to read thoughts leaves Will uneasy. His faith in Magnus is shaken even further when the Triad's questioning leads to a paranoid breakdown. Things go from bad to worse when Henry decrypts the surveillance camera video, which reveals that it was, in fact, Magnus who shot Bigfoot.
All signs point to Magnus's guilt, but Will goes to see her in an effort to reason with her. Unfortunately, her version of reason is to knock him out and flee. She's tracked by Kate to an abandoned pier, where Will attempts to calm her before getting a call from Henry, who reveals that his digging through Magnus's files has unearthed information on an Abnormal named "Big Bertha."
Declan, having tracked Will's movements, recaptures Magnus and puts her on maximum lockdown...and he's none too happy with Will for aiding and abetting her escape. Emma takes pity on the erstwhile psychiatrist and shares with him the secret of Big Bertha, an Abnormal so powerful that she could shift the Earth's tectonic plates. She was meant to be euthanized by Dr. Magnus, but the files indicate Big Bertha might actually still be alive...and while she lives, she's a risk to the safety of the world.
As if on cue, it's discovered that Big Bertha is in a shipping container being transported on the Arabian Sea. Before a Sanctuary team can be mobilized to recapture her, the ship she's on is hijacked by mercenaries.
At Bigfoot's grave, Will is brooding, trying to figure out how everything could have gone so wrong. Suddenly, he notices that the crypt has been tampered with, and looks inside - Bigfoot is gone! And suddenly, he figures it out. Magnus, suspecting a traitor in the Triad, scrambled her own brain using an ozone beetle and staged Bigfoot's death, all in an effort to entrap the troubled telepath...who, it turns out, is Emma. The Sanctuary team captures her attempting to collect the decoy Big Bertha, and is left marveling at the audacity of Magnus's plan and thankful that Bigfoot is alive and well.