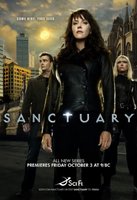 TV Info
---
Episode Premiere
October 24, 2008

Distributor
Syfy

Genre
Sci-Fi, Crime, Mystery

Show Period
2008 - 2012

Production Company
Sanctuary 1 Productions


Cast and Crew
---
Director
Martin Wood
Screenwriter
Damian Kindler
Main Cast
Additional Cast
Alison Araya
Kirsten Robek
Sarah Strange
Synopsis
---
Magnus, Will and their colleague Dr. Allison Grant are on a mission in the Himalayas to capture one of the most elusive and mysterious abnormals ever encountered. Flying back to their New Delhi lab, the creature escapes its cage, attacking the pilot and downing the plane in the middle of the treacherous Hindu Kush mountain range.
Along with Magnus, Will and Allison, surviving the crash are the Sanctuary's weapons dealer Sylvio Rudd, the expedition's Sherpa Tashi, co-pilot Lloyd Strickland and plane mechanic Viktor Braun, but there is no sign of the escaped creature.
Back home, Ashley has been tracking the plane and immediately arranges for a rescue team out of Islamabad. But a frenzied snowstorm has made its way to the fallen plane and the rescue effort cannot move forward until the fierce weather subsides. The hope of being able to reach the plane in a matter of hours turns into a potential of days for the stranded, injured and freezing passengers.
As night falls, they settle in to rest while the wind howls outside the severely damaged fuselage.
It becomes chillingly apparent that surviving the cold is the least of their worries when they discover Strickland dead in the cockpit, the victim of a vicious attack, and the creature still nowhere in sight. While contemplating theories of what happened and why, another passenger falls victim to a mysterious attack.
Will and Magnus start to speculate why the escaped creature would stay with the plane and prey on passengers when it has the freedom to retreat back into the mountains. And if the creature isn't the predator, then what or who is?
Adding to the unsettling atmosphere is the fact that each passenger seems to be having strange and vivid dreams causing them to distrust what is real.
Sleep-deprived, terrified and suspicious, the passengers start to turn on each other, making everyone, even Magnus and Will, a suspect in the murders.