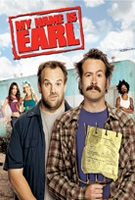 TV Info
---
Episode Premiere
September 27, 2007

Distributor
NBC

Genre
Comedy

Show Period
2005 - 2009

Production Company
Amigos de Garcia Prod., Fox TV


Cast and Crew
---
Director
Michael Fresco
Screenwriter
Michael Pennie
Main Cast
Additional Cast
Ben Foster as Glenn
Josh Wolf
Keith Oney
Andy Mackenzie
Synopsis
---
Earl survived his first night in jail, but discovers that his cellmate escaped.
Since Earl's cell had a hole in the wall he had to move to general population. Earl quickly learned that when one person broke the rules, everyone paid the price...and got thoroughly searched.
Darnell, Catalina and Randy all came to see Earl in jail. Catalina gave the inmates something to stare at, Darnell brought some religious reading for Earl and Randy had a stack of questions, but time was up before he got to ask them.
Earl thought he had found the right prison gang to hang with, the old timers.
During Joy and Randy's visit with Earl he asks Joy to let Randy move in with her and Crabman. Clearly Randy is having some trouble adjusting to life with Earl behind bars.
Earl runs into an old friend in prison that shows him the way to survive...be invisible.
Earl has realized that while he's in prison, he must put the list away and put nice Earl away for a while to survive. And once Earl's new friend Sunny rats him out to Glen, another inmate, Earl steps up to Sunny and gets thrown in the hotbox with the Glen.
Joy is quickly realizing how dependent Randy is on Earl, and she is starting to lose her patience. To help Randy a bit, Catalina created a sock puppet named "little earl."
Joy and Darnell are woken up by Randy's incessant questioning and Joy is about to lose it, but she finds away to keep him quiet.
To make up the past to Glen, Earl made him a weapon however; Glen used it to stab Earl.
Earl finds out that Glen messes up his chances at parole every time and he wants to know why, but Glen doesn't make it easy for Earl to help.
Earl helps Glen collect his Scout badges and enlists the assistance of the other inmates.
Earl realized that by helping people inside, just as he did on the outside was how he would survive in prison.
Randy leaves Earl's shirt behind and starts making decisions for himself; He steals a car thinking it will allow him to move in with Earl, at the prison.