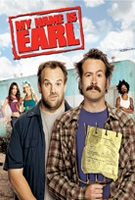 TV Info
---
Episode Premiere
April 19, 2007

Distributor
NBC

Genre
Comedy

Show Period
2005 - 2009

Production Company
Amigos de Garcia Prod., Fox TV


Cast and Crew
---
Director
Victor Nelli Jr.
Screenwriter
Bobby Bowman
Main Cast
Additional Cast
Norm MacDonald
Charles Robinson
Norman Johnson Jr
Burt Reynolds
Sunkrish Bala
Synopsis
---
Only one person in town is capable of making people afraid from beyond the grave, and that's Richard Chubby. The town's most powerful businessman was eccentric and unpredictable in life, not to mention mean. At his strip club, Chubby threatens Randy with a pistol. Luckily, it's filled with vodka, providing a good laugh and fatal grounds for confusion. Thinking he's freshening his drink, Chubby picks up the wrong gun and blows his own head off.
There's a huge crowd at Chubby's funeral, because attendance for employees is mandatory, and the service is scheduled during their unpaid lunch break. Earl wonders why no one is leaving, and Catalina informs that the new boss is even worse. A white limo pulls up, and the new boss gets out. Little Chubby, Chubby's son, is back in town to take over the family business.
Before Little Chubby left town, his favorite hobby was messing with people, usually resulting in injury and/or humiliation. One day, Little Chubby cuts off Randy's rat tail, stuffs it in Joy's drink and forces her to swallow, or risk the loss of her hair-do. Joy wants Earl to kill him real slow, so he has to get creative. Donning an orange afro wig, Earl sneaks up on Little Chubby at the Crab Shack and kicks him in the nuts, drawing a standing ovation and high fives from the crowd.
The day after the funeral, Earl visits Little Chubby at the strip club to fess up. Little Chubby thanks Earl for providing the turning point in his life. It was the pain in his heart to know that everyone hated him that Little Chubby couldn't shake. After walking the earth and visiting some aborigines, Little Chubby is now kinder, gentler - nice. He thanks Earl for making him a better person.
Now that Little Chubby's a whole new guy, everyone enjoys hanging out with him. He gifts Randy with a new rat tail, and invites the gang to the mansion for a pool party. Little Chubby's just happy to share with his friends. Earl still wants to do something to make up for what he's done, but it's going to be hard, since Little Chubby now has a perfect life. When Little Chubby's robe falls open, revealing his freakishly damaged little chubbies, Earl knows there's two giant problems.
When Darnell suggests that Little Chubby's injury may have affected his libido, Earl accompanies him on a visit to the doctor. The doctor informs that Earl has taken the jingle out of Little Chubby's Bells - he's no longer making testosterone. Earl stands by on the day of the big surgery. Little Chubby is scared and misses his Mom, who his father pushed out of a moving car. He asks Earl to fill in by holding his hand, stroking his hair, and singing him a Lynyrd Skynyrd song.
Within a few days the testosterone starts flowing and Little Chubby's back to his old mean tricks. The gang tells Earl to fix the situation, so Earl goes by the strip club. Little Chubby offers Earl a drink, then smashes it against the back of Earl's head. When Earl comes to, he's tied to a backstop. Little Chubby has rigged up a pitching machine to deprive Earl of his manhood in a game of tit for tat.
Earl reminds Little Chubby that he was happy being nice, and didn't want to end up like his Dad, sad and alone. After all, Little Chubby is his mother's son, too. When Earl starts singing "Free Bird," the softer side of Little Chubby finally comes out. He stands in front of Earl, taking the baseball hit, not to protect Earl, but to protect himself from himself. Once again deprived of his testosterone, Little Chubby reverts to the life of a nice guy and throws another pool party.