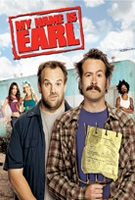 TV Info
---
Episode Premiere
November 02, 2006

Distributor
NBC

Genre
Comedy

Show Period
2005 - 2009

Production Company
Amigos de Garcia Prod., Fox TV


Cast and Crew
---
Director
Marc Buckland
Screenwriter
Bobby Bowman
Main Cast
Additional Cast
Synopsis
---
Joy had to drive to Henderson to apologize to her old trailer park manager, Millie Banks so she would drop the restraining order she had against Joy. Joy's attorney thought it would look good in court. Earl remembered the horrible thing he did to Millie while he was married to Joy.
Earl remembered when he discovered that his walkie talkie was being picked up by Millie's hearing aid. So, he, Randy, and Joy decided to play a trick on her and pretend they were God talking to Millie and she fell for it. She did everything that Earl told her to do through the walkie talkie. That including ripping up citations and giving away valuables.
Earl found Millie working in a convent. He told her about his cruel trick and she was furious. She went back to managing the trailer park and became a bigger pain for Joy and Darnell. She had Darnell get rid of his turtle and she refused to drop the restraining order she had on Joy.
Earl was trying to find a way to be in good graces with Millie, Catalina came up with the idea of trying to get Millie to go back to the convent. She pointed out that Millie seemed her happiest when she was a nun. Joy actually agreed with Catalina's opinion. Meanwhile, Randy was excited that Darnell let him be a foster parent to Mr. Turtle.
Earl wanted to give Millie a sign to go back to being a nun. He broke into her trailer and placed a grilled cheese sandwich with the image of Jesus on her counter. She caught him in her kitchen and began pelting him with rocks from her slingshot.
Before she could do anymore damage, Earl tried talking some sense into Millie. He explained to Millie that she had become to miserable and cranky since leaving the convent and she should go back to being a happy nun. She considered Earl her sign to go back to being a nun and even dropped the restraining order against Joy.