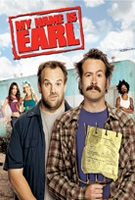 TV Info
---
Episode Premiere
September 28, 2006

Distributor
NBC

Genre
Comedy

Show Period
2005 - 2009

Production Company
Amigos de Garcia Prod., Fox TV


Cast and Crew
---
Director
Chris Koch
Screenwriter
Vali Chandrasekaran
Main Cast
Additional Cast
Synopsis
---
Joy was facing a tough sentence for stealing the Bargain Bag delivery truck. It turns out that this was her third strike with the law, so her bail was set at one million dollars. Earl felt helpless because he didn't have that kind of cash. But, he thought of the richest man in Camden County, Richard Chubby.
Earl and Randy approached Chubby wanting money for Joy's bail. He said he would loan them the money under one condition: they help get the best dancer at his strip club back on the job. That dancer was Catalina. Randy and Earl tried to come up with a way to get Catalina to return to dancing.
Catalina had left her dancing career behind because an old man died of a heart attack while watching her perform. All she wanted was closure and to pay the man's son a visit at the small business he owned. Turns out the people who worked for the old man, Mr. Tucker, called him El Diablo. They all thought Catalina was a saint for killing him.
Randy helped get Catalina ready for her big comeback at Chubby's strip club by stretching her legs and making sure she was flexible. Meanwhile, Earl confirmed that Chubby wouldn't tell Catalina she was stripping to bail Joy out of jail. It was too late, though, because Catalina found out through Darnell that she was inadvertently helping to get Joy out of jail
Earl tried to persuade Joy to be kind to Catalina in order to get her to dance again. The two began the conversation in prison on friendly terms, but it quickly turned ugly. After a few choice insults, Catalina stormed out of the jail. Joy decided she could strip for her own bail money.
Chubby agreed to let Joy dance for him, thinking she would bring money into the club. The only problem was that Joy drank too much tequila beforehand and threw up on the front row of the audience. Chubby fired her on the spot.
Earl passed out at the bar and when he awoke, Catalina was being cheered on stage for her dancing. He later asked Catalina why she decided to dance for Joy. Catalina said she did it for Earl because he cared so much about helping a friend and that made her want to help, as well. Joy made bail and Earl realized what a good friend Catalina was to him.