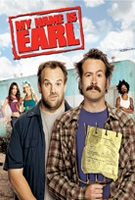 TV Info
---
Episode Premiere
April 27, 2006

Distributor
NBC

Genre
Comedy

Show Period
2005 - 2009

Production Company
Amigos de Garcia Prod., Fox TV


Cast and Crew
---
Director
Marc Buckland
Screenwriter
Victor Fresco
Main Cast
Additional Cast
Max Perlich
Helen Siff
Joan M. Blair
Joe Kay
Synopsis
---
Randy was fishing for unique junk in the storm drain and both he and Earl came across an old familiar police badge. Earl remembered stealing the badge out of a guy's shoe at the bowling alley. After he stole the badge, Earl found out about all the free things cops got, like pie and coffee. But now, Earl had to cross 'stole a badge' off his list.
While Randy, Joy and Earl were using the police badge to get free stuff, Randy got sidetracked and left it unattended at the quickie mart, where it was stolen by Creepy Rodney. The gang found Creepy Rodney at the Crab Shack trying to get free booze with his badge. Darnell took it from him. Randy, Joy and Earl started fighting for it. Earl decided to throw it in the river to get rid of it.
Now that Earl and Randy had the badge back, they decided to return it to the police station. Earl came across a group of sisters and their mom, who all worked at the same station. The badge belonged to their brother, Stuart, who was a police officer. Because of Earl stealing his badge, Stuart had been ordered to patrol the local rest stop.
Earl and Randy felt guilty about Stuart being demoted, so they decided to set Creepy Rodney up to play the criminal and rob the diner where Stuart always ate. The plan backfired; Stuart didn't do anything but hide when Creepy Rodney robbed the place. Then they set up Creepy Rodney again. And again, Stuart didn't do much when Creepy Rodney tried to steal shoes from Stuart's favorite hangout, the bowling alley.
After Stuart let Creepy Rodney get away, Earl sat him down to talk. He discovered that Stuart had never wanted to be a cop; it was his family's decision. It was Stuart's dream to be a professional bowler and he was good at it, too. Earl thought that karma was setting him up to help Stuart become a professional bowler.
Earl confessed to Stuart the meaning of his list. Stuart took one look at it and decided that he wanted to be a cop again. He snatched Earl's list and decided to turn him in for all the bad things he had done. When Earl tried to escape, Stuart rolled a bowling ball at his legs and Earl fell over. Stuart had reached for his bowling ball and not his gun. Stuart really was meant to be a bowler. He let Earl go and gave him back his list.