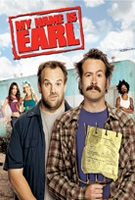 TV Info
---
Episode Premiere
September 20, 2005

Distributor
NBC

Genre
Comedy

Show Period
2005 - 2009

Production Company
Amigos de Garcia Prod., Fox TV


Cast and Crew
---
Director
Marc Buckland
Screenwriter
Greg Garcia
Main Cast
Additional Cast
Michael Avery
Willam Belli
Deborah Cresswell
Leo Fitzpatrick
Synopsis
---
You know the guy you're not so sure about? The guy who goes into a convenience store and orders a beer, some lottery tickets and cigarettes? The guy that maybe makes you think of crossing to the other side of the street?
That guy is Earl.
And in spite of typical stereotypes, Earl IS that guy, to a tee. He'll steal anything he can get his hands on. He loves to drink and smoke. He married Joy on a weekend bender in Vegas ' she was a random woman he met in a bar. And he didn't realize 'till later that she was already six months pregnant.
Yep, that's Earl, and pretty soon, Earl and Joy had a kid of their own, only upon delivery, it was very clear that this second child was not Earl's. But in spite of his cheating wife, two terrible kids that weren't his, and his lazy brother sleeping on his couch, Earl stuck around. That is, until something hit Earl right in the face' literally.
Upon winning $100,000 on a scratch ticket, Earl celebrates by jumping up and down in front of oncoming traffic. Of course he gets hit, AND he loses the ticket.
While in the hospital, Joy serves Earl with divorce papers and tells him she plans on marrying the Crab Shack owner, Darnell. It's pretty clear to everyone that Darnell is actually the father of Joy's second kid. One other thing happens to Earl though. While in traction and doped up on morphine, Earl overhears Carson Daly on TV talking about karma. Daly explains that what goes around comes around. This simple life lesson embeds itself right into Earl's drugged head.
Having no place to live, Earl and his brother Randy move into a motel and Randy immediately makes friends with one of the maids, a beautiful woman named Catalina. Having hit bottom, Earl realizes that he's never done a good thing in his life, so it stands to reason that karma has kicked him right in the rear.
So Earl decides to make a list. A list of everything he's done wrong and every person he's hurt in the process. He decides to right every wrong he's ever done, even if it kills him in the process.
While picking up garbage (No.136 on his list: 'I've been a litterbug') Earl's faith in the tenets of karma comes to fruition. The missing lottery ticket blows in the wind and lands on Earl's shoe. This karma stuff officially works.
Earl's first order of business from his list: No. 64 'Picked on Kenny James.' Kenny was a kid Earl picked on in high school, so he decides it was time to right his first wrong.
Earl observes Kenny for a few days, trying to figure out the best way to resolve his guilt. Kenny has a decent job, a nice car, and the best house on the block. But Kenny is lonely. He has no one to share his nice things with. Earl wants to make Kenny happy, so his plan is to get Kenny laid. Earl's first attempt ' hiring a hooker and sending her to Kenny's house ' doesn't work.
Earl finally talks to Kenny face-to-face, but it turns out Kenny doesn't like women. Kenny likes men. This, of course, freaks Earl out and he decides not to help Kenny as a result. Only karma intervenes again. As soon as he gets back to the motel, Joy has broken in, hits him over the head with a telephone and demands half the money from the lottery. Earl decides to go back to Kenny.
Kenny doesn't have a man in his life because he's too scared to actually try. Earl then offers to take Kenny to a gay bar. Kenny finally forgives Earl, the man he was most afraid of his entire life, and tells Earl he can cross him off the list.
One down ' 258 to go.