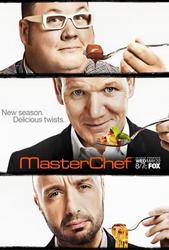 TV Info
---
Episode Premiere
September 11, 2013

Distributor
FOX

Genre
Reality

Show Period
2010 - now

Production Company
Reveille, Shine TV, One Potato Two Potato


Cast and Crew
---
Main Cast
Gordon Ramsay as Himself - Host / Judge
Joe Bastianich
Graham Elliot Bowles
Christina Tosi
Synopsis
---
After a long journey, Natasha and Luca go head-to-head in the finale for the top prize - $250,000, their own cookbook and the title of MasterChef. The kitchen is packed with onlookers, including past competitors. Judges Gordon Ramsay, Joe Bastianich and Graham Elliot also welcome Luca and Natasha's families, who have come to cheer them on, including Luca's father and sister all the way from Italy.
For the final challenge, the contestants must make a perfectly prepared three-course dinner. They must each create one amazing appetizer, one fabulous entr?e and an incredible dessert. After cooking each course, the competitors will serve the dishes to the judges in the restaurant.
With just ten minutes in the pantry, both contestants gather all the ingredients they need. For her appetizer, Natasha will be making pan-seared scallops, while Luca will be cooking a pan-seared duck liver. They have one hour to complete the round.
When time is up, the judges taste Natasha's pan-seared scallops with couscous and seaweed salad. Gordon says it's perfectly cooked. Graham says it's one of her prettiest dishes and one of her tastiest.
Next, Gordon praises the flavors of Luca's pan-seared duck liver with brioche and peaches. Unfortunately, he feels the liver is slightly undercooked. In Luca's defense, Joe calls the dish a triumph.
Both cooks then have 60 minutes to prepare their entr?es. Natasha decides to make monkfish, while Luca chooses to cook beef short ribs. Since he is using a pressure cooker, Luca won't be able to look inside the pot to check the meat's progress.
In the restaurant, the judges sample Natasha's five-spice monkfish with rice and coconut curry. Graham says it's the prettiest dish he's ever seen on MasterChef, but he feels the spice is a little too hot. Gordon compliments her for pulling off one of the most difficult fish to get right.
Luckily for Luca, his gamble paid off. His entr?e of braised beef short ribs with chanterelle mushrooms is perfectly cooked. However, Gordon says the dish is delicious but a little too heavy. On the other hand, Graham says it's the best dish he's ever tasted from Luca.
For their final round, Luca will make a basil panna cotta. In a surprising twist, Natasha announces that she too will be making panna cotta - but she'll be cooking two versions, not just one.
While cooking, Luca makes a terrible mistake when he forgets to strain his panna cotta. His only option is to start from scratch. In the meantime, Natasha has her desserts already in the fridge.
As the clock ticks down, Natasha realizes that her lime panna cotta has not set to her liking and she throws it out. But Luca has managed to get all of his components on his plate.
The judges' begin by tasting Natasha's coconut panna cotta with passion fruit coulis. Gordon likes it so much he wipes Graham's plate clean. Joe says the consistency is delightful, but he wonders if it's too simple.
Finally, Luca presents his basil panna cotta with tomato jam and honey mascarpone. Gordon is intrigued because it looks like an appetizer and doesn't strike him as a dessert. Although he finds the panna cotta has a savory taste initially, it explodes with the flavor of the tomato jam. However, Joe feels there are structural issues with the way the elements are laid out.
After tasting all of the delightful courses, Gordon wonders if they might have to declare a draw for the first time. Ultimately, in the most difficult decision in the history of the competition, the judges crown Luca the winner of the MasterChef competition.