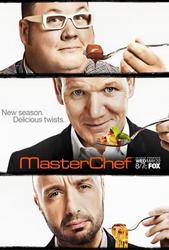 TV Info
---
Episode Premiere
August 28, 2013

Distributor
FOX

Genre
Reality

Show Period
2010 - now

Production Company
Reveille, Shine TV, One Potato Two Potato


Cast and Crew
---
Main Cast
Gordon Ramsay as Himself - Host / Judge
Joe Bastianich
Graham Elliot Bowles
Christina Tosi
Synopsis
---
Gordon Ramsay, Joe Bastianich and Graham Elliot introduce the final five home cooks to some special guests. The judges' children - Joe's sons Ethan, age 11, and Miles, age 13; Graham's son Conrad, age 2; and Gordon's son Jack, age 13 - will be putting together the ingredients for the next Mystery Box Challenge. The kids go into the MasterChef pantry to fill the crate with 15 items.
When the kids return to the kitchen, the contents are revealed - white chips, chocolate spread, ketchup, peanut butter, coconut, marshmallows, pineapple, passion fruit, bacon, cheese slices, maple syrup, bananas, blueberries, strawberries and puff pastry. The players have one hour to prepare a restaurant-quality dish using these ingredients.
As the contestants work, Ethan, Miles, Conrad and Jack walk through the kitchen with their dads to check in with the players. When time runs out, the judges and their sons take one last look at all of the dishes and choose the top three standouts. But before they taste the players' food, the boys are off to bed.
First the judges want to take a closer look at Luca's pineapple Napoleon with white chocolate. Gordon is impressed by the stunning presentation. Joe calls it top-notch.
The second dish they examine is Jessie's vanilla cream puffs with coconut and fruit. Graham likes the flavors, and Gordon says it's cooked perfectly.
Finally, James brings up his passion fruit turnover with blueberry mint puree. The judges are surprised by his technical ability.
James is named the winner, and he joins the others in the MasterChef pantry. He learns that he will not compete in the next Elimination Test, guaranteeing him a spot in the final four. In addition, James will determine which dishes his competitors will prepare.
The judges give him three options: marinated botan shrimp with sea urchin and caviar, a soft-shell crab sandwich, or Vietnamese noodle soup with slow-cooked pork.
Upon tasting the three dishes, James determines that the soup will be the most difficult for his competitors to replicate. The four contestants sample the broth and then head into the pantry to select their ingredients, after which they have 70 minutes to re-create the soup.
As the clock winds down, the four cooks present their dishes to the judges. Natasha is up first. Graham says the proportions are good but the broth is too sweet. Gordon notes that the pork is cooked perfectly. Joe wishes she had used more salt.
Luca's soup has a great color and the flavors are well-balanced. Graham tells him he should be really proud of himself. Gordon says it's mind-blowing.
The judges are impressed by the presentation of Jessie's soup. Joe says it has depth in spades and is very close to Gordon's original dish.
Krissi's soup includes all the ingredients and flavors, but it is overspiced. Graham calls it a valiant effort. Gordon thinks there are too many noodles but the foundation is there.
Gordon, Joe and Graham have a difficult decision to make and take a few minutes to confer. They commend Jessie and Luca for getting so close to the mark, ultimately naming Luca the winner. Both chefs move on to the final four.
The judges were also impressed with both Natasha and Krissi's soups. They send Krissi upstairs to join the other saved cooks, as Natasha wipes away tears because she thinks she is going home. But the judges tell her she has been given a reprieve and will not be going home because there was no weak dish in this challenge. All five cooks will compete again.
The five remaining contestants have been brought to a ranch outside of Los Angeles to cater a very special lunch party thrown by a mystery host. Judges Gordon Ramsay, Joe Bastianich and Graham Elliot introduce celebrity chef Paula Deen.
Everyone climbs aboard Paula's tractor and she takes them to a pasture, where they learn that this will not be a group challenge. Each contestant will be responsible for cooking and serving to one table holding ten guests of local charity volunteers.
Paula has handpicked five proteins that celebrate her signature cuisine. Each competitor will have to prepare one Southern-style dish with at least two sides.
As the winner of the last challenge, Luca gets to assign the main ingredient to each of his competitors. He chooses pork chops for himself and doles out catfish to Natasha, alligator to Jessie, shrimp to Krissi and chicken to James.
After lunch is complete, Paula will choose two superior dishes, and those competitors will be safe from elimination in the next challenge and move straight to the final four. The contestants are given 90 minutes to prep, cook and serve their entrées to the guests.
After half an hour passes, the judges check in with Luca, who explains that he chose pork chops to play it safe. Meanwhile, Jessie has decided to deep-fry her alligator, a protein she's never cooked before.
Although he had what seemed like the simplest dish to prepare, James' oversized chicken breasts end up raw in the middle. With just minutes to go before he has to serve his guests, he throws them back into the oven.
Paula and the judges get feedback from the diners. Krissi, Luca and Jessie all get rave reviews. But one of James' guests sends back a raw chicken breast, and Natasha's table complains that her catfish is undercooked.
With all plates served, Paula must choose her top two dishes. She decides to send Luca and Jessie straight to the top four. That means that Krissi, Natasha and James must compete in a Pressure Test.
Back in the MasterChef kitchen, Luca and Jessie are escorted into the pantry, where they make game-changing decisions that will impact what happens next. Together they must assign a dish from each of the judges' flagship restaurants to one of their competitors.
Targeting Natasha for elimination, they give her Gordon's seared scallop salad. They choose to have Krissi prepare Joe's fillet Rossini. That leaves James to re-create Graham's Greek yogurt panna cotta.
Once they sample the items they'll be replicating, the cooks are given 45 minutes to prepare one serving of each of the judge's dishes. After a quarter of an hour ticks by, James puts his panna cotta in the refrigerator instead of the blast chiller. Luca and Jessie fear that Krissi is overcooking her fillet. Joe says it takes a lot of courage for Natasha to wait to put the scallops into her pan with just three minutes left.
When time is up, the judges start by tasting Natasha's appetizer. Visually, she is missing a bit of sauce and some truffle, but her scallops are cooked beautifully. Although it's not perfect, Gordon calls it a bloody good effort.
Next up is Krissi, who manages to exactly match Joe's presentation. But when Joe cuts the beef open, it is slightly overcooked. Still, Joe calls the dish impressive.
Finally, James presents his dessert. While the flavoring is good, the panna cotta isn't set properly. In the end, the judges send James home. Luca, Jessie and Natasha are left to compete in the final four.