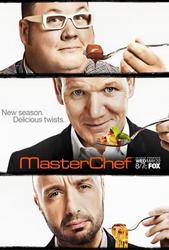 TV Info
---
Episode Premiere
August 07, 2013

Distributor
FOX

Genre
Reality

Show Period
2010 - now

Production Company
Reveille, Shine TV, One Potato Two Potato


Cast and Crew
---
Main Cast
Gordon Ramsay as Himself - Host / Judge
Joe Bastianich
Graham Elliot Bowles
Christina Tosi
Synopsis
---
Judges Gordon Ramsay, Joe Bastianich and Graham Elliot welcome the final six contestants to the MasterChef kitchen and announce a shocking twist: They will not be cooking. Instead they'll be watching three of their former challengers do battle for a spot in the competition.
Gordon welcomes back Bri, Joe has chosen Lynn, and Graham has picked Bime. Only one of them has a chance at winning a white apron, but first all three will compete in a high-speed challenge. After that, one of them will be eliminated. The remaining two contestants will cook head-to-head in the culinary battle of their lives.
The trio are sent to the MasterChef pantry, where they have just five minutes to grab everything they need. But the home cooks are surprised to find that the shelves are stocked with only eggs.
Each of them must prepare perfectly cooked sunny-side up eggs with no burned edges, no hard yolks and beautifully set whites. The contestants will have 15 minutes to cook as many of them as they can.
When Bime starts off with butter instead of oil, everyone agrees it is a mistake. James advises Bri from the gallery to drop her heat to avoid bubbling. Jordan is adamant that he doesn't want Lynn to return to the competition.
With 10 minutes to go, Lynn decides to use the oven as an additional heat source. But the pressure to deliver starts to get to him. When time is up, the judges take a look at the 27 eggs that Lynn has plated. They immediately see that two of them are raw and ultimately determine that only eight of them are perfectly cooked.
Next up for review are Bri's offerings. She has managed to outcook Lynn by five eggs. With 13 properly prepared, she moves on to the next round.
Although Bime has served up 32 eggs, the judges start to send the majority of his plates to the trash. In the end, he manages to surpass Lynn by one and moves on to go head-to-head with Bri in the next challenge. With that, Lynn is sent home yet again.
For their final competition, Bime and Bri will be serving a meal to the six remaining contestants, who will act as judges alongside Joe. Their decision will come down to the flavor of the dish, because it will be a blind taste test. The eliminated contestant who receives the most votes will win back their apron and a chance at the "MasterChef" title.
Bime and Bri learn that for their once-in-a-lifetime second chance, they must utilize all of their culinary skills to prepare the freshest king salmon. They must both break down the fish and prepare seven filets that are pan-seared, crispy skin side up with a perfect hollandaise sauce. They must also make beautiful asparagus and potatoes.
Bri dons a red apron and Bime a blue one, and with 60 minutes on the clock, they get to work. Vegetarian chef Bri is nervous about competing in the ultimate Pressure Test, and with good cause. Gordon says she is cutting the fish like she is slicing a cake, not fileting a salmon.
As the clock ticks down, Bime gets his perfectly cut salmon in the pan, but the judges are concerned that he's serving mashed potatoes as his side dish. When plating is complete, the judging begins.
After tasting both dishes, the remaining six contestants and Joe cast their votes. Although it is a close call, Bri edges out Bime by one vote. She earns a white apron and the chance to return to the MasterChef competition.