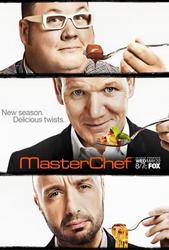 TV Info
---
Episode Premiere
July 31, 2013

Distributor
FOX

Genre
Reality

Show Period
2010 - now

Production Company
Reveille, Shine TV, One Potato Two Potato


Cast and Crew
---
Main Cast
Gordon Ramsay as Himself - Host / Judge
Joe Bastianich
Graham Elliot Bowles
Christina Tosi
Synopsis
---
The final seven enter the MasterChef kitchen to discover a gigantic wooden crate. Judges Gordon Ramsay, Joe Bastianich and Graham Elliot reveal a surprise for the next challenge: the contestants' families have been flown in to lend extra encouragement during the upcoming competition.
For the Mystery Box Challenge, the home cooks must create a dish that is inspired by their families. They are told to go into the pantry with their empty crates and bring back up to 15 items that they can use along with their staple items.
With 60 minutes on the clock, the competitors race to grab what they need. Natasha forgets to pick up chicken stock for her curry but decides to make one from vegetables instead. Luca chooses to make risotto for his always supportive wife, while Jessie finds that having her parents watch from above is a bit nerve-wracking.
Having tasted all of the contestants' dishes over the course of the hour, the judges select the top three standouts so they can determine a winner. When time is up, they call up Natasha. All three judges praise her green curry with coconut, corn and rice.
Next they sample Jessie's seared duck breast with Brussels sprouts and a blackberry reduction. Graham says it's probably the best dish she's made so far in the competition.
Finally, Luca serves his pan-seared halibut with white asparagus risotto. Gordon tells him he's starting to think like a chef, and Joe concedes that it is perfectly cooked.
The judges declare Luca the winner, which means he gets an advantage for the next Elimination Test. Although he won't be choosing what will be cooked in the challenge, he'll still have some important decisions to make. He discovers that other contestants will have to prepare Japanese food, while Luca watches from the safety of the gallery.
Back in the MasterChef kitchen, the competitors learn that they will be working in teams of two that Luca has chosen. James is paired with Jordan, Natasha with Krissi and Eddie with Jessie.
Despite the fact that they are working as teams, the cooking duos will not prepare food simultaneously. Three of the contestants will work until the judges tell them to swap out with their partners, who will then have their turn.
With 60 minutes on the clock, Krissi starts rinsing her rice, Eddie begins his tempura batter and James quickly gets down to peeling shrimp. When Gordon yells to switch, Jordon cuts the live sea urchins but he makes a mistake when he washes the uni.
After a couple more swaps, Jessie, Natasha and Jordan tag in for the final round. As the last few seconds tick down, all three teams struggle to plate their food.
The judges start by tasting the offerings from Natasha and Krissi. Gordon is impressed with the way the plate looks and the effort that went into pulling it together. When questioned by Joe, Luca admits that he tried to "sink Natasha with the Krissi anchor," but he was clearly unsuccessful.
Next up are Jordan and James. Although the cut on their fish is good, their food is under-seasoned and their shrimp is raw. When they laugh in response to criticism from Joe, Gordon is shocked.
Finally, Eddie and Jessie present their plate. Their uni isn't cleaned properly and their fish is poorly butchered. To top everything off, their rice is tart because it is overpowered with vinegar.
In the end, Krissi and Natasha are named the winners. James and Jordan are also safe. Although both Eddie and Jessie agree that their effort was 50-50, the judges ask Eddie to leave the MasterChef kitchen.