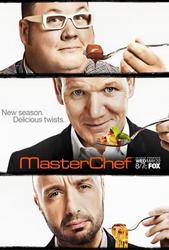 TV Info
---
Episode Premiere
July 24, 2013

Distributor
FOX

Genre
Reality

Show Period
2010 - now

Production Company
Reveille, Shine TV, One Potato Two Potato


Cast and Crew
---
Main Cast
Gordon Ramsay as Himself - Host / Judge
Joe Bastianich
Graham Elliot Bowles
Christina Tosi
Synopsis
---
The eight remaining home cooks are stranded in the wilderness for an epic team challenge that will test both their culinary creativity and resourcefulness. Judges Gordon Ramsay, Joe Bastianich and Graham Elliot reveal that the competitors will have to prove they can cook anywhere using anything.
For their challenge, they'll be serving the three expert chefs a meal they prepare with the ingredients inside three survival cases. Their only tools are a camping knife, a flint for starting fires, a cast iron skillet and a wooden spoon. With these limited resources and basic ingredients, they must make a world-class, restaurant-quality dish. To top it off, they'll all be spending the night camping out in the middle of nowhere.
Since Bri and Natasha had the best dishes in the last elimination challenge, they are the team captains. Bri chooses James, Eddie and Luca. Natasha teams with Jordan, Jessie and Krissi. In a last minute twist, Chef Ramsay announces that they'll be switching leaders.
Next the competitors learn that they will have two proteins to choose from - rabbit and pigeon. Bri's Blue Team picks the rabbit.
With limited daylight remaining, the teams must start planning their gourmet dishes. Bri makes a bold suggestion that they prepare homemade pasta, while Natasha's Red Team struggles to come up with a technique for preparing their pigeon dish.
Following a night of indecision, Natasha's group decides to slow roast their pigeon. In the meantime, the Blue Team is beginning to falter. They get their rabbit cooking a little later than they had hoped and have to wait until the last minute to make their pasta.
With under a minute left until the presentation, the Blue Team stumbles when Bri drops one of the three judges' tasting plates. With just seconds to spare, they must split their food into smaller portions.
First up is the Blue Team, who serve their braised rabbit ragu with quail egg pasta. Despite the fact that it needs a bit more seasoning, the judges are pleased with the effort.
Next the Red Team presents their visually stunning slow-roasted pigeon with farro risotto and baby carrots. Eddie's pigeon is cooked perfectly, but the carrots are a bit crunchy for Chef Ramsay's taste.
After deliberating, the judges decided that the Natasha's Red team made the superior dish. To notify the winners, they send a plume of red smoke up in the air for all to see.
The Blue Team returns to the MasterChef kitchen for a Pressure Test. In a twist, the Red Team gets to choose one person to skip the challenge. They select Krissi, because they think she is the weakest player in the game.
Bri, Jordan and Jessie learn that they must prepare six chocolate ?clairs. They have all of the ingredients they need at their stations and 60 minutes in which to cook. Both Jessie and Bri get off to a strong start, but Jordan is looking out of his element.
With 15 minutes to go, Jessie struggles to get the cream inside her ?clairs. In the meantime, Bri seems to be in trouble with her undercooked pastry, and Jordon incorrectly dips his creations in chocolate before filling them.
When they present their ?clairs, Bri's are undercooked and her cream has melted. Jordan's are more consistent in shape but a little bit too sweet. Jessie's are split down the middle, lack filling in the center and are topped with bitter chocolate.
Despite the fact that he got off to a rocky start in the challenge, Jordan is declared the winner. Even though it was a close call for the worst ?clair, ultimately Bri is the contestant who is sent home.