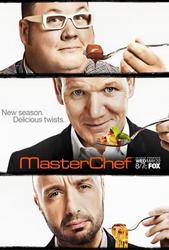 TV Info
---
Episode Premiere
May 22, 2013

Distributor
FOX

Genre
Reality

Show Period
2010 - now

Production Company
Reveille, Shine TV, One Potato Two Potato


Cast and Crew
---
Main Cast
Gordon Ramsay as Himself - Host / Judge
Joe Bastianich
Graham Elliot Bowles
Christina Tosi
Synopsis
---
Months ago, the search began for the best home cooks to take part in the world's biggest cooking competition. The contestants came from all corners of America - everywhere from Los Angeles to New York City to Chicago. Only a handful will get the chance to prove themselves to three of the biggest names in the culinary world: Gordon Ramsay, Graham Elliot and Joe Bastianich. And only one will win $250,000, author their own cookbook and be crowned America's next MasterChef.
From the thousands of entrants who applied, just 100 home cooks have been invited to Los Angeles for the chance to win an apron signifying a spot in the next round of competition. The contenders have just one hour to create a dish they believe will impress, and five minutes to plate it in front of the judges. If two of the judges think the dish is worthy, they will receive an apron and move on to the next stage.
First up is Natasha, a 26-year-old stay-at-home mom from San Diego, California. She presents empanadas with chimichurri skirt steak. Gordon tells her she nailed it. The other judges agree, and she gets a coveted apron.
The next hopeful, 19-year-old bakery assistant Christine, is also from San Diego. Her Korean duck with kalbi marinade doesn't impress Gordon and Graham. Even though Joe likes her flavors, she does not get a spot in the next round.
After some unusual presentations - including a whole rabbit (with skin still on) and a live ostrich in the studio - 28-year-old stay-at-home dad Brian, from Terrell, Texas, hopes his beaver tail dish will catch the judges' attention. Gordon and Joe are once again split. Graham sides with Gordon, and Brian gets an apron.
Next up is Jordan, a 29-year-old delivery driver from Minneapolis, Minnesota, who wants to deliver the culinary goods. He is wearing the apron he gave to his mom when he was a teenager. After she was diagnosed with brain cancer five years ago, he began cooking in her honor. Graham says he's disappointed that there is not a plate of his ancho chile tostadas for each of them. Joe tells him his mom would be proud, because it's one of the best dishes he's ever tasted on the show. Jordan moves on to the next round.
After a string of disgusting dishes, Adriana from New York hopes to turn things around. The 26-year-old college admin rep, originally from Mexico, prepares cactus soup with dried shrimp croutons. Graham gives her a thumbs up, but Gordon disagrees. Joe sides with Gordon, and Adriana is presented with a MasterChef apron.This begins a run of successes that results in four more aprons flying out the door. Thirty-three-year-old George from Ohio hopes to continue the streak. His Greek wedding soup represents the engagement ring he has been carrying in his pocket for months. Before passing down judgment on the dish, Gordon calls in George's girlfriend, Maria. Gordon tells them both he's not going to give George an apron but says there's a bigger prize at stake. George gets down on one knee and proposes to Maria.
As the first day of auditions comes to a close, 24-year-old single mom Krissi from Philadelphia, Pennsylvania, is the last cook to present a dish. Her young son Mike, who encouraged her to try out for the show, is by her side. After the judges taste her stuffed meatloaf Florentine, they invite Mike to join them. He tells the judges that Gordon is his idol and he wants to be a chef when he grows up. The judges tell Mike they see Krissi's potential, and she is awarded the last apron of the day.
The search for America's greatest home chef continues. It's day two of the auditions, and more hopefuls arrive ready to pursue their culinary dreams by winning the approval of judges Gordon Ramsay, Graham Elliot and Joe Bastianich. Each cook is given just one hour to prepare a signature dish and five minutes to plate it up for service. If two of the three judges think they have what it takes, the home cook will win a coveted MasterChef apron and move on to the next stage of the competition.
First up is Bime, a 35-year-old father of three, who hopes his Puerto Rican flare will give him an edge. He serves a traditional dish, mofongo de camarones, consisting of mashed-up fried plantain topped with shrimp. Joe questions whether he's inauthentic and is put off by the fact that Bime gets emotional when discussing his daughters. But Gordon and Graham decide to send him through to round two.
The next cook is Jessie, a small-town Southern belle with big dreams. Although she hasn't had access to a wide range of ingredients in her rural upbringing, she's excited for an opportunity to learn. Gordon compliments the textures of her sea bass en croute but says he expects something more modern. Although she gets a nod of approval from Graham, Joe isn't sure that she's the real deal. Chef Ramsay decides to make her prove she is. He asks her to watch while he filets a fish and then has her do the same. When she delivers six perfect portions, he gives her a yes and an apron.
The following batch of contestants proves that MasterChef hopefuls come from all walks of life. These include a tractor-driving farmer, a fire dancer, a magician, a robotics instructor and a biker. Unfortunately, only the young illusionist makes the cut.
Retail salesman James explains that he hopes to do justice to the memory of his deceased parents by doing something with his cooking ability. He prepares a crispy pork belly. Both Gordon and Joe question whether he's enough of a fighter to survive the competition, but he manages to move to the next round.
In the quest for a MasterChef apron, some home cooks think they need to serve up more than a winning dish. While several female competitors get flirty with the judges, none of them satisfy their culinary requirements. But when Sasha Fox whips up a Southern fried chicken dish using a Cornish hen, she wins over the entire panel with her saucy personality and delicious food.
The following contestant is Rudy, who suffered 75 percent burns during the 2003 San Diego fires. He hopes that he can win the MasterChef competition so he can show people that even though he's disabled, it doesn't mean he's done. Even though his story is compelling and inspirational, the buffalo meat in his fry bread taco doesn't pass muster, and Rudy does not advance.
Many more soon discover that it's harder this year to win an apron than ever before. So it's time to see if Eddie, a former NFL player, can score with the judges. Gordon finds his jerk meatloaf "intriguing," and Joe likes the heat in the dish. They each vote yes, and Eddie is in the game.
The final contestant of the day is a familiar face from last season who has been given a second chance - Italian-born restaurant manager Luca. When competing in MasterChef last season, he didn't survive the first round. Although Graham is not impressed with the sauce on Luca's broccoli rabe ravioli, Gordon and Joe vote him in, and his dreams to compete are brought to life.