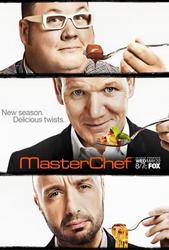 TV Info
---
Episode Premiere
July 27, 2010

Distributor
FOX

Genre
Reality

Show Period
2010 - now

Production Company
Reveille, Shine TV, One Potato Two Potato


Cast and Crew
---
Main Cast
Gordon Ramsay as Himself - Host / Judge
Joe Bastianich
Graham Elliot Bowles
Christina Tosi
Synopsis
---
Who will be America's first MasterChef? From a stay-at-home mom to a physician to a construction worker, thousands of amateur chefs from across the country came out to take part in "the most intense culinary competition on Earth." Renowned chef Gordon Ramsay and his team of judges whittled down the ranks to 100 contestants -- but only 30 will be talented enough to move forward to the next level.
Why is the competition so fierce? The winner will receive a quarter of a million dollars, their own cookbook, and the title of America's first MasterChef. The goal of Tuesday night's U.S. series premiere was to earn a MasterChef apron by preparing a single dish with "skill and passion" in just one hour (taste and presentation are equally important).
The judges -- including Ramsay, famous for "Hell's Kitchen" and "Kitchen Nightmares"; Graham Elliot, who was America's youngest four-star chef; and restaurateur and wine maker Joe Bastianich -- started with Chris, who prepared Beer Cheese Soup. Chris is a big fan of beer: His T-shirt bears the slogan, "beer is food." Graham liked it; he said he could easily eat a bowl. Joe, however, called it "bad" and "disgusting." And Gordon called it "the most disgusting soup I've ever eaten in my life." Sorry, Chris.
Chris is only the first of many contestants to get nixed, including a woman who always dates chefs (but will never be one, according to Gordon) and a flirty former pro-soccer player.
Gordon announces that he's disappointed and is getting very upset, when he meets Michael, a 34-year-old server from California. Michael prepares Duck Ssam With Orange Miso Sauce, and Gordon notes that he "moves like a chef." The taste is equally pleasing -- Gordon calls the textures "mind-blowing" and "absolutely phenomenal." Graham says the dish is like "sex in your mouth" (and he means that in "the best possible way"). Joe says it has "beautiful balance." Michael is in.
A few more contestants get yeses, including a 62-year-old woman and Tracy, a 42-year-old doctor. Tracy has a touching story -- her mother, who passed away a few years ago, was her biggest inspiration for cooking. A year before she died she wrote down the family recipes; Tracy started cooking not long afterward to "taste" her mom again. When asked to prepare the "dish of her life," Tracy makes Smothered Chicken With Grilled Brussels Sprouts -- right out of her mom's cookbook. Joe calls it delicious, Graham likes it, and Gordon says Tracy is the whole reason why MasterChef exists. Tracy is in.
After a few more disappointments (Gordon can taste the "desperation" in one dish), the judges meet David Miller from Boston, who prepares New England-Style Bouillabaisse. His personality, however, is an acquired taste. Gordon insists it takes two days to make the perfect bouillabaisse, not one hour. He thinks David's a "joker." Graham and Joe are fans, however, and a sobbing David promises to "bring it." He's in.
So is Avis, a 47-year-old caregiver for the elderly who prepares Catfish Arcadia. The dish comes with pasta that is "heavy" and overcooked, but Gordon is impressed by Avis' perfectly cooked fish. Thrilled, Avis nearly smothers Gordon with a big hug.
The next contestant, a farmer named Randy, shows up in overalls to prepare "funeral potatoes" -- otherwise known as a heart attack on a plate. Gordon concludes that as a nation, "we've moved forward 100 years" beyond Randy's Loaded Potato Casserole. Randy gets a resounding no.
Faruq has better luck. A 30-year-old bartender with a young family, he dreams of being a chef but can't afford to go to culinary school. The judges mock him for carving his Parmesan crisps into butterflies and for making a simple baked macaroni and cheese -- but they are impressed by its perfectly crispy top. However, Faruq forgot to season the dish -- a big mistake. The judges decide to overlook it, but remind him for next time: a little salt goes a long way.
Over half the aprons are gone, stay tuned to meet your final 30 contestants!