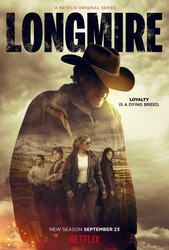 TV Info
---
Episode Premiere
August 26, 2013

Distributor
A&E

Genre
Drama

Show Period
2012 - Now

Production Company
The Shephard/Robin Company, Warner Horizon TV


Cast and Crew
---
Director
Michael Offer
Screenwriter
Hunt Baldwin, John Coveny
Main Cast
Synopsis
---
Walt is riding his horse as Cady looks on when he gets a call from the Ferg. Ed Gorski, the ex-cop who has been stalking Vic, has been brutally beaten and is in the hospital. The Ferg checks Gorski's cell phone and, noting the large number of calls to Vic, worries that they were having an affair. He asks Walt if it's possible that her husband, Sean, found out and beat Gorski up. Walt assures the Ferg that Vic and Gorski are not romantically involved.
Walt visits Gorski in the hospital and learns that he believes Walt beat him up. Back at the station, Vic tells Walt that it's not his problem to handle, forcing Walt to admit that he made it his problem when he threatened Gorski in his motel room. Walt asks Vic about the nature of her relationship with Gorski, and she reveals that she and Gorski had a brief romantic relationship before she got married. Vic tells Walt not to worry about Gorski. She has a plan to get him off their case.
Mathias calls Walt to let him know he found Branch breaking into a house on the reservation. Walt picks him up and scolds him for sneaking around behind Mathias' back, only to have Branch accuse him of having done the same on numerous occasions. After Walt says he always has a good reason to go to the reservation without alerting Mathias, Branch explains that the house he was breaking into belongs to a man named David Ridges, who he thinks had something to do with Cady's accident. Walt immediately turns the truck around.
In Ridges' house, Walt and Branch discover a camera mounted on a tripod. The wall that the camera is focused on is coated in blood. They check the memory card in the camera, and watch as Ridges films himself committing suicide. Before shooting himself, Ridges says, "I am going back in time to be the man I was. I need to leave this body behind and save me from myself." The time travel reference confuses Walt and Branch, as does the fact that Ridges' body is nowhere to be found.
Branch tells Walt that Ridges was employed by Jacob Nighthorse. He wonders if Ridges learned that Branch was asking about him and decided to kill himself, or if Jacob had a role in his death. Henry reviews the footage and explains that Ridges was playing with "bad medicine." Ridges was calling on the Crazy Dogs, what the Blackfoot call their Dog Soldiers, to guide him back in time so he could make things right. Henry says whether or not you believe in bad medicine, it tends to attract "some rather dangerous people." Walt decides it's time to talk to Jacob.
Vic goes to the hospital to confront Gorski. She asks him what he wants, and he tells her that he wants her to know what it feels like to have everything she cares about taken away. She tells him that she can arrange that, and gives him a crime report to fill out. She stops Walt back at the station and explains that she told Gorski that she beat him up. He will name her in his report, and she'll lose her job. In fact, she'll never be able to work as a police officer again. Walt doesn't believe her, but she denies hiring Hector, a local Cheyenne mercenary, and insists that she delivered the beating herself.
Meanwhile, Branch arrives at Jacob's office to ask him about his former employee, David Ridges. According to Jacob, Ridges had been talking about "going back in time." Ridges told Jacob that he had flattened Cady's tire in an attempt to help him and Branch win the election, but he hadn't meant for anyone to get hurt. Jacob was worried, so he visited Ridges and found his body. According to his wishes, Jacob had his body burned. Branch has Jacob take him to the site where he burned the body, but all that remains of Ridges is ash. Branch wants to get a DNA sample, but Jacob warns him that they are on sacred ground, and any attempt to disturb Ridges remains will cause "the force of the Cheyenne nation" to come down on him.
Walt meets with Hector to tell him that Vic is planning on taking the fall for beating up Gorski. He knows that Hector is a big believer in right and wrong, despite his chosen career path. Hector won't allow someone else to take the blame for his actions.
At Walt's house, Cady is stunned when several police cruisers pull up and Detective Fales enters brandishing a search warrant. She realizes that Fales wasn't helping her learn about her mother's death when she met him in Denver, he was using her to get to Henry and Walt.
Walt and Hector arrive at the station and find that Fales and his men are turning the place upside down. Fales tells Walt that he has a witness in the murder of Miller Beck, the meth head that killed Walt's wife. Miller's friend has identified Walt as the "big cowboy" who attacked them in Denver. Now all Fales needs is some hard evidence, which is why he brought the search warrants.
Walt calls Henry to warn him, but Fales' men are already searching the Red Pony. Henry sees them find a small bag, and hangs up the phone. Walt decides to move Hector away from prying eyes, and begins to drive him to another county jail. He is forced to stop when he finds Henry sitting on a horse in the middle of the road. Henry tells Walt that he can't arrest Hector because Walt "owes him." Henry explains that, after Walt was nearly killed when he attacked the meth head and his friends in Denver, Henry decided to keep him from getting killed or arrested by hiring Hector to kill Miller instead. Hector stuns them both by revealing that he didn't kill Miller after all, he simply beat him close to death. Henry had assumed Miller was dead after Hector gave him two of his teeth as proof of his actions. The mystery continues; who killed the meth head?
Vic tells her husband that she might be out of work soon. He is worried when she explains that someone from Philadelphia has been stalking her, but becomes angry when he learns it's Gorski. Vic gets a call from the hospital saying that Gorski wants to see her. She goes to meet him, assuming he's filled out the crime report, but learns that he has checked himself out of the hospital. The report has been left blank except for the words "SEE YOU SOON."
Walt heads home and he and Cady discuss what Fales told them. They find it strange that the witness said Miller stole $700 from Walt's wife's purse. Both Walt and Cady know that she never kept more than $50 in her purse, just in case it was stolen.
The next day, Walt runs into Branch outside of the station. Branch says he's heading back to the reservation to get a DNA sample. He asks if Walt will join him, but Walt has to meet with Fales. Walt tells Fales about the $700 found in his wife's purse and explains that he believes someone hired Miller to kill his wife. Unfortunately, his theory comes a little late as Fales has found his evidence. In the Red Pony, police found a medicine bag of Henry's. Inside were two teeth matching the Miller Beck's dental records. Henry is under arrest. Fales leaves Walt to stew, and soon he erupts. In a rage he tears his office apart, demolishing a book case and flipping over his enormous desk.
The phone rings on the floor. Walt grabs it and hears Branch weakly calling for help. Walt rushes to the reservation where he finds Branch lying on the ground, shot twice in the chest. Walt asks who shot him, and Branch flashes back to the attack. A man wearing a Dog Soldier head-dress, his body coated in ash, runs towards Branch brandishing a rifle. Walt snaps him out of it, asking him again, "Who shot you, Branch?" Branch manages to wheeze, "A dead man." Walt lifts his deputy over his shoulder and carries him back to his truck.