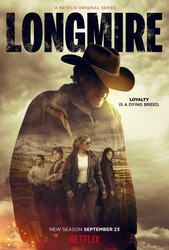 TV Info
---
Episode Premiere
August 19, 2013

Distributor
Netflix, A&E

Genre
Drama, Action, Crime

Show Period
2012 - Now

Production Company
The Shephard/Robin Company, Warner Horizon TV


Cast and Crew
---
Director
Kari Skogland
Screenwriter
Tony Tost
Main Cast
Synopsis
---
Walt is surprised when he receives a strange package in the mail. It seems a convicted robber named James Notley had a severed finger in a safety deposit box left with instructions to deliver it to the Absaroka County Sheriff in the event of his death. The finger was duly delivered after Notley was stabbed to death in prison just two weeks before he was to be released. Walt learns that Notley was arrested back in 1989 by Branch's uncle, and the former sheriff, Lucian Connally.
Walt heads to the Red Pony where Lucian is performing in a Cowboy Poetry Slam. It takes some convincing, but Lucian eventually reveals that he had arrested Notley for stealing a triceratops skeleton. Unfortunately, Notley sold the skeleton before Lucian could catch him, and the money was never recovered.
Meanwhile, Vic fears she's being stalked by Ed Gorski, a former work associate from her days as a Philadelphia police officer. She tracks him down and confronts him, but Gorski turns the tables on her, telling him that she's creeping him out and demanding that she stop following him. After she discovers that someone has taken a bite out of a bar of soap in her shower, Vic decides to spend the night at the station where she'll be safe.
Walt discovers Vic in the morning, but before she can tell him what's going on, they're interrupted by the Ferg. He had Notley's body checked, and the deceased robber had all of his fingers. He also learned that Notley's funeral is about to begin. Walt asks Vic if she would like to join him for the ceremony, but she declines. At the funeral, Walt speaks to Connie Mallery, Notley's girlfriend. She doesn't know anything about the finger or whether or not he had a partner. However, she does reveals that Notley was paranoid towards the end, thinking that someone was out to kill him.
Back at the station, Walt asks Vic if she's ok. She decides to confide in him, telling him about her history with Gorski. In Philadelphia, Vic reported Gorski's partner for corruption. The accused cop eventually took his own life. Gorski blamed Vic for his partner's suicide and began threatening her, although she could never quite prove it was him. Walt tells Vic to stay at his place on the sofa for the time being, and Vic agrees.
A letter written by Notley is discovered at the prison. In it, Notley reveals that he had a partner named Riley Manning. Walt speaks to Connie about Manning, but she says she hasn't seen him in months. She claims that Manning is poor, but that the last time she saw him, he was on a sailboat. She also tells Walt that Manning is missing a finger.
The Ferg stops a man matching Manning's description, but the man manages to get away. Back at the station, the other deputies give him a hard time about letting him go, but it turns out it was all part of the Ferg's plan. He dropped his watch, which he can track with GPS, in the back of Manning's truck. Now they can pick up their suspect whenever they want.
Walt finds Manning at a bar and learns that the finger belongs to him. He wanted Notley to know that he was a loyal partner and wouldn't steal any of Notely's share of the cash they stole while he was in prison. Manning got ten percent of the take, so he gave Notley ten percent of his fingers. Walt asks Manning why he ran when the Ferg tried to stop him, and Manning tells him that Connie tipped him off to the fact that Walt was looking for him. Manning believes that Lucian is behind the whole thing, and reveals that Lucian and Connie had a romantic relationship when Notley first went away to prison.
Walt confronts Lucian, thinking that the former sheriff told Connie that he was looking for Manning. Lucian admits to having a relationship with Connie, but denies telling her anything about Manning. Walt realizes there's only one other person who could have told her.
Walt finds Hank, his contact at the prison, in bed with Connie at her house. He takes them both to the station and interviews Connie in his office. She suddenly realizes that Hank might be the one behind Notley's murder. He had access to Notley in prison, and could have orchestrated the whole thing. She tells Walt that Hank has a terrible temper, and can be abusive.
Walt leaves her in his office and tells Hank what she said. He is flummoxed. She told him that Notley was abusive. He admits that he set up Notley to be killed in prison by telling a particularly violent felon that Notley had been saying rude things about him. He also tells Walt that Connie paid him $15,000 for his help.
Walt brings Connie out and asks if she has anything to say to Hank. She says that anyone who did what they did to Notley deserves what's coming to them. Walt tells her he couldn't agree more as he escorts her into the cell.Walt gets a call from Henry. He tells him that Vic stopped by looking to contact a Cheyenne mercenary for hire named Hector to scare off a stalker. Walt decides that enough is enough.
Ed Gorski returns to his hotel room and finds Walt sitting in the dark. Walt makes it clear to Gorski that he's not welcome with a story about Achilles dealing with an enemy of a friend. "Achilles ran his sword through the man's guts and then dragged his dead body around town," Walt explains. "So could this enemy have done anything otherwise?" Gorski asks. Walt stands and gets close to Gorski before replying, "He could have left town while he had the chance."