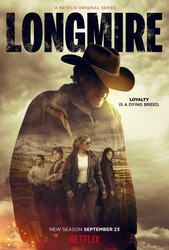 TV Info
---
Episode Premiere
August 12, 2013

Distributor
A&E

Genre
Drama

Show Period
2012 - Now

Production Company
The Shephard/Robin Company, Warner Horizon TV


Cast and Crew
---
Director
Daniel Sackheim
Screenwriter
Sarah Nicole Jones
Main Cast
Additional Cast
Louanne Stephens
A. Martinez
Jim Beaver
Louis Herthum
Lochlyn Munro
Cameron Moulene
Synopsis
---
Walt's Vision Quest comes to a painful end when the sunburnt sheriff finally topples to the ground after a long night and day of standing in the desert. Simultaneously, Cady stirs and wakes from her coma in the hospital. Walt's first sight when he regains consciousness is Henry's smiling face.
Walt rushes back to the hospital to see Cady. He takes a break to get some water and runs into Grant Thayer and his son, Troy. Grant tells Walt that the doctors are blaming a "wasting sickness" for Troy's poor health. Walt wishes them well before being called away. Vic is on the phone; there's been a murder.
Walt and Vic examine their victim. A young game warden, Connor Redding, has been stabbed to death. Next to his body is a dead elk. The elk's head is missing, and it has been gutted. They speak to another game warden named Devin Gaines who tells them that the dead elk matches the M.O. of a poacher he's been tracking that's been killing elk out of season.
Walt visits Lee Rosky, a local taxidermist, to see if anyone has brought an elk head by to be mounted. Lee tells Walt that even if someone had, he wouldn't have helped them in the off-season. Walt asks him to call if anyone stops by. As he's leaving, a man drives up with some scrap wood to sell Lee for his firewood business. Walt chuckles when he sees that the scrap wood is a big pile of Branch's election signs.
Branch visits Cady in the hospital and gets a scare when she tells him she doesn't remember who he is. She can't keep up the ruse for long, though, and the two talk. Still trying to figure out what caused the accident, Branch asks Cady what she remembers. Unfortunately, she's forgotten the entire day. She asks him if he's going back to work, but he's not sure what to do.
Walt and Omar sit at the Red Pony as Walt fills the big game hunter in on the case. Walt describes the elk's missing head and gutted corpse, causing Omar to ask to see the body.
Walt and Omar head to Doc Bloomfield's autopsy room and investigate the animal. Just as Omar suspected, the elk's pancreas is missing. He thinks someone is hunting elk for their antler velvet and pancreases to sell to herbal supplement companies that pay big bucks for hard-to-find ingredients. He tells Walt that these ingredients are used in a popular supplement called "Elk Velvetine." Omar remembers that he took a group hunting and one man, named "Mr. Chen," kept asking to kill elk.
Later at the station, Vic tells Walt that she can't find anything on Mr. Chen. All his personal information was fake, and she says Omar's description of the man was both useless and politically incorrect. Walt sends her to talk to hunting guides in the area to see if anyone has heard of him. Ruby looks up Velvetine and discovers that it is occasionally used by pro-football players and can sometimes cause wasting sickness.
Walt returns to the hospital and asks Troy about the Velvetine. Troy reluctantly admits that he was taking the supplement, and says that his high school coach was providing it. Walt speaks to Troy's coach, but he is adamant that he would never drug his players. He suggests Walt ask Troy's father, Grant. It seems he's a "sideline dad" that the coach has thrown out of practices and games more than once.
Back at the station, Vic tells Walt that Mr. Chen asked a number of hunting guides to take him out to find elk, but they all claim to have refused. Omar looks through photos of hunting groups that Vic brought back with her and spots Mr. Chen. Walt takes a look and is surprised to see Grant Thayer in the photo as well.
Walt speaks to Grant at the hospital. He says he had no idea the supplement had side effects, and that he only wanted to give his son every possible advantage. He agrees to give Walt Mr. Chen's contact information.
Walt finds Mr. Chen, whose real name is Jonathan Ling, at his place of work, Coalage Enterprises. Ling is an engineer and makes frequent trips to China. He doesn't deny supplying his clients with Velvetine, but he claims to be bringing it back to the states legally and says he has no intention of trying to produce the supplement locally.
Branch visits Henry at the Red Pony and asks for help. Henry is surprised, but hears him out. Branch says that he has no plan since losing the election. He wants to go back to work, and wonders if Walt is the sort of man who holds a grudge. Henry tells him the story of how he and Walt first met. Henry thought Walt was insulting him for his Native American ancestry, and punched him in the face. As it turned out, Walt meant nothing of the sort. Rather than be angry for being punched, he and Henry have been friends ever since. If nothing else, Walt is a man who believes in second chances.
Walt gets a call from Lee saying a hunting guide named Keith Dixon stopped by to have an elk head mounted. Walt and Vic find evidence at Keith's house indicating that he's the poacher. Walt, Henry and Omar track Keith up the mountain. After Henry injures his leg in one of Keith's traps, they are able to capture the poacher when Henry pretends to be an injured elk using an elk call.
Walt brings Keith back to the station where he finds Branch waiting for him. Walt asks if this means Branch is working for him again. Branch supposes that it does, so Walt gruffly agrees to keep him around.
Walt and Vic question Keith and learn that he doesn't know anything about the murder. He tells them he wouldn't be stupid enough to try and get an elk head mounted out of season. Not to mention the fact that the head he supposedly brought to Lee is from a young, small elk, and hardly worth mounting. Walt realizes he may have the wrong man.
Walt heads to Lee's house where he's greeted by Lee's wife, Bonnie. Bonnie is dying from cancer, and Walt notices that she has a number of herbal medicines she's taking now that she can no longer continue her chemo treatments. Before he can learn more, he is attacked by Lee, brandishing a set of elk antlers. The two struggle, but Lee eventually comes to his senses. He could no longer afford to buy the Velvetine for Bonnie, so he decided to make it himself. Unfortunately, he was caught in the act by Connor Redding. Knowing he couldn't go to jail and leave Bonnie on her own, Lee killed the young game warden.
Branch visits Jacob Nighthorse in his office. It turns out the fingerprint he lifted from Cady's car belongs to an employee of Jacob's named David Ridges. Branch remembered something Jacob said about elections coming down to whoever got the most voters to the polls, or whoever kept the other guy's supporters away. Branch asks if Jacob had anything to do with Cady's accident. Jacob tells Branch to forget the past, but Branch isn't happy with that answer. He makes it clear to Jacob that he'll be keeping an eye on the casino owner in the future.
Walt sits with Cady in the hospital. He tells her he's decided to keep her boyfriend around. He admits he's had issues with Branch in the past, but he's ready to let things go. "Maybe I'm starting to mellow," he tells her. "I should get hit with a car more often," she jokes. "No," Walt says. "Once was enough."