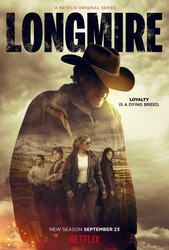 TV Info
---
Episode Premiere
May 27, 2013

Distributor
A&E

Genre
Drama

Show Period
2012 - Now

Production Company
The Shephard/Robin Company, Warner Horizon TV


Cast and Crew
---
Director
Michael Offer
Screenwriter
Hunt Baldwin, John Coveny
Main Cast
Additional Cast
Louis Herthum
Charles Dutton
Dan Hildebrand
Charles Parnell
Noam Jenkins
Synopsis
---
Walt and Vic are transporting a prisoner named Wayne Durrel, a serial killer who targeted Indians and sold their organs on the black market. On their way to hand him over to the FBI, they come across a white buffalo calf in the road. Wayne calls it a sign, but Walt refuses to acknowledge him.
They meet the FBI at a diner called Cowboy's Corner. Agent Brooks, an FBI criminal psychologist, has convinced Wayne to give up the location of the body of a boy he killed in return for a stay of execution. Walt remembers trying to find the boy, named Theo Halfmoon, when he went missing many years ago. They hand over the prisoner, and Walt and Vic head back home. As they drive, Vic finds a bobby pin in her sandwich, and the two realize that someone at the diner may have tried to help Wayne escape.
They return to the diner to find the prisoners gone, and several FBI agents and diner employees dead. Agent Brooks and the waitress, Helen, have been taken hostage. Walt and Vic head up the mountain to save them, in spite of the major snow storm that is moving in.
They encounter an inmate with a high powered machine gun, but manage to disarm him before anyone gets hurt. Unfortunately, Wayne has taken the other inmates and the hostages up the mountain in a huge off-road vehicle called a "Snowcat." Walt orders Vic to take the prisoner they caught back to the office and lock him up. Walt is going up the mountain after the hostages. Vic argues with him, but finally relents on the condition that he takes her cellphone.
Back at the office, Vic asks the prisoner what Wayne's plan is, but he has no idea. Wayne forced the prisoners to go with him. The FBI arrive and take over the investigation. Vic is her usual confrontational self, but Branch is willing to play ball with the agents. Henry arrives with food, then leaves shortly after learning there's been no word from Walt. Branch follows him, and finds that Henry has secured two horses. Branch demands to come with him up the mountain after Walt.
Walt, following the Snowcat tracks, spots two sets of footprints leading off into the woods. Henry appears by his side, and they discuss Walt's options. Walt refuses to turn back, deciding instead to follow the footprints, and Henry disappears as suddenly as he appeared.
Walt follows the trail to a cabin. He hears gunfire, so he rushes inside to find a wounded Omar, a dead prisoner, and Helen, the waitress. He asks her about Wayne, but doesn't buy her story. She reveals that she and Wayne are in love, and she helped him escape. She thinks he's coming back for her, but Walt doubts it. The next morning, Omar radios Vic at the Sheriff's office to tell her that he gave Walt supplies to continue his journey up the mountain. She's furious, but Omar tells her there's no way he could have convinced Walt to turn back.
Walt finds clips of ammo as he follows the Snowcat tracks and figures Agent Brooks must be leaving him a trail. Suddenly, Denver Detective Fales appears, and begins questioning Longmire. Is Walt really chasing a bad guy? Or is he running from something? Walt trudges on.
Vic confronts the FBI about their lack of action, and discovers that they have a tracking device on Agent Brooks. Furious at being kept out of the loop, she ends up punching one of the agents and being thrown out of the office. The Ferg returns and finds her sitting in the lobby. She tells him what happened, and Ferg loves it. Vic's eyes fill with tears of frustration as she tells Ferg to leave her alone. He leaves, hurt and confused. As soon as the door shuts behind him, Vic allows herself to cry.
Walt spots the Snowcat and hears shots being fired. He checks the scene with his binoculars and sees a prisoner on the ground, shot dead. Suddenly, bullets whiz past his head. He loses his balance and tumbles down the mountain into a freezing cold stream. He drags himself out and up to a cabin. The door opens to Cady, who takes him inside as he apologizes for lying to her about her mother's death. She tells him that she understands that he was just trying to protect her. Walt passes out, and Cady disappears. What once had seemed to be a cozy cabin is suddenly revealed to be an empty, abandoned shack.
The sound of a child's voice wakes Walt. He looks up and sees Theo Halfmoon. Walt tells him that he tried to find him, and Theo assures him that there was nothing else he could have done. Walt realizes his hallucinations are being brought on by hypothermia, and builds a fire.
Later, The Ferg rushes into the lobby and wakes Vic. Walt is on the phone! They try to talk to him, but the signal he managed to get on Vic's cellphone drops out. They may not know where he is, but at least they know he's alive.
Warmed up and dried out, Walt continues his search. He finds the empty Snowcat, and follows a trail of blood to an abandoned mineshaft. Inside, he finds a wounded Agent Brooks. She shows him the box of cash in the mine that Wayne was trying to recover. Suddenly, Wayne begins firing his machine gun into the mineshaft. The gun runs out of ammo, and Walt charges Wayne, firing his own gun.
He tackles the prisoner, and the two exhausted men begin pummeling each other. They fall to the ground. As they catch their breath, Wayne claims that the white buffalo calf was a sign for him. He knew when he saw it that he'd get away. Walt corrects Wayne. He tells him the calf was a sign of a better future for the Indian tribes Wayne has been murdering; a future without him in it. They continue to battle until they fall to the ground again, cold, tired, and completely spent. Walt leans against a tree stump, puts his hat over his eyes, and passes out. The last thing he sees is Theo Halfmoon, watching from the treeline.
Henry and Branch arrive at the mountaintop and pass Wayne's frozen corpse as they race to Walt's side. Branch asks if Walt is dead. Slowly, Walt's hat begins to stir. The Sheriff looks up and simply says, "Not yet."