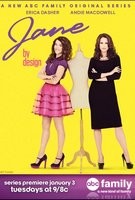 TV Info
---
Episode Premiere
July 17, 2012

Distributor
ABC Family

Genre
Drama

Show Period
2012 - 2012

Production Company
Pariah Television


Cast and Crew
---
Director
Daisy von Scherler Mayer
Screenwriter
Deirdre Shaw
Main Cast
Synopsis
---
Jane is thrilled when Eli asks her out on their first official date to a very fancy restaurant. She has a dress she created that will be just perfect for the occasion! Unfortunately, Jane's mom thinks Jane designed the dress for the school play, so Cinderella ends up with Jane's perfect dress - and Jane is left trying to find a new one. Meanwhile, when Gray leaves town, she has one very important assignment for Jane: to get a dress Donovan designed for the fabulous Nina Garcia to Nina. When the dress comes in, Jane learns there are two of them. Donovan always makes a back-up dress for Nina. And when Nina's assistant insists there won't be any need for the back-up dress, Jane decides to wear it herself on her date with Eli.
Meanwhile, Billy struggles with the intimacy of Zoe and Nick's roles as leads in the school play. And Kate's newly-arrived boyfriend, Dakota, gives her an ultimatum: say "yes" to his proposal and move back with him, or say "no" and their relationship is over. Also, Ben scores another chance to play professional baseball!
At the restaurant, Jane and Eli are having a wonderful time - until Nina Garcia arrives in the exact same dress Jane in wearing! Luckily, Jane is there with the dress, because disaster strikes when red wine spills all over Nina. For the first time, she actually needs the backup dress! Jane avoids a complete disaster and quickly creates a new dress for herself (out of a tablecloth!) and meets Nina to hand over dress. Nina is extremely impressed with Jane getting her the dress so quickly. (Little does she know she was in the restaurant the entire time wearing the dress!) Jane's afraid she's ruined her date with Eli, but is pleased to learn that he had an amazing time - dress debacle and all.
Back at home, Kate tells Jane she's going to say "yes" to Dakota. But she promises her daughter that this won't be like the last time. They'll still talk all the time. After Kate leaves, Ben returns home and excitedly tells his sister he make the team. He's going to play baseball again! But he has to leave tonight. Jane lets him believe Kate is still there so her brother can go after his dream --- leaving her alone.